It's the man of Masses' birthday already and we cannot be more excited about the excelling dancer turning 46 and still managing to look as young and amazing as he does. With the first looks of his upcoming movie '
With the first looks of his upcoming movie 'Sarkar' already making a mark, we take you back to his previous films we have totally loved watching and his acting has been a true classic.
We have opted for 5 films that are just wonderful to watch again and again:
1. Kadhalukku Mariyadhai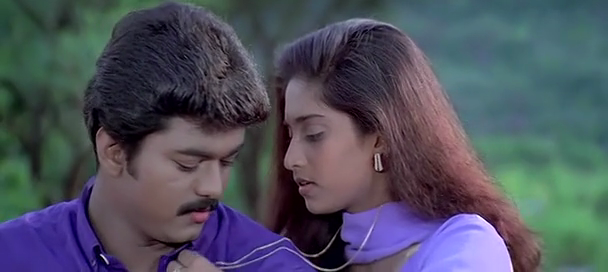 Probably one of the epic love stories created in the late '90s, this movie was released in the year 1997. Starring Vijay and Shalini, the audience welcomed this pair as the most romantic onscreen couple of that time. This movie was not only successful but was critically acclaimed as one of Vijay's best.
2. Kushi
This is one other film that has been Vijay and Jyothika the most popular onscreen Jodi after their film Kushi released in the year 2000. This saw some the best acting and comic dialogues ever.
3. Priyamanavaley
Simran and Vijay had one of the best characters chosen in 2000. Priyamanavaley had a completely different story altogether at that point of time.
4. Friends
This movie once again won the hearts of many as Suriya and Vijay provided everyone with a performance so power packed, it was unforgettable. The ideal friendship was shown beautifully and the jokes were brilliant to top it off.
5. Ghilli
One of the biggest blockbusters and a trademark for Vijay, Ghilli was a brilliance of its own kind. Released in 2004, Ghilli saw Trisha, Vijay and Prakash Raj in lead roles. The songs, the story, and the acting were all top notch and brilliant.
6. Pokkiri
Another classic from Vijay was Pokkiri which was the Telugu remake just like Ghilli. This blockbuster film had Asin, Vijay, and Vadivelu in the lead. The movie released in the year 2007.
7. Kavalan

After series of flops, Vijay bounced back to what he does best – class romance! The movie was subtle, romantic and a superhit. The story was straightforward, emotional and had fine acting.
8. Nanban
How could one forget that when it's about friendship, there's no one like Vijay and his acting? After friends, Nanban was one such film that proved his mettle in acting and by this time was one of the biggest stars in South Cinema.
9. Thupakki
There isn't any necessity to provide any explanations to Thupakki the movie because it is a brand by itself. This was the 100 crore film that one wouldn't mind watching again and again and still never get bored of the mass acting the actor has provided.
10. Kaththi
Another classic from AR Murugadoss that had a brilliant story, was classic and had an even amazing acting from Vijay. The romance between Samantha and Vijay was fresh and lovely to watch on screen.
11. Shajahan
This being the classic of all, we have saved it for last. Being as amazing as the movie 'Kadhalukku Mariyadhai', Shajahan was a tragic love story that will be etched in the hearts forever. Vijay's acting will make you cry and smile at the very same time.