Stories play a pivotal role in our lives. Stories of women, place, culture influence us and shape the way we think and function as a community. Movies are visual representations of such stories that steer us towards situations we can relate too and battle with on an everyday basis. This women's day gather your snacks and pillows and get comfy to watch these 10 films that we have hand picked for you to feel happy and empowered about being a woman. From Thelma and Louise to Ammu here is our line up of truly amazing friendships and memorable characters for you to watch and enjoy.
Eat. Pray. Love 
Liz Gilbert (Julia Roberts) is a modern woman on a quest to marvel at and travel the world while rediscovering and reconnecting with her true inner self in Eat Pray Love. At a crossroads after a divorce, Gilbert takes a year-long sabbatical from her job and steps uncharacteristically out of her comfort zone, risking everything to change her life. In her wondrous and exotic travels, she experiences the simple pleasure of nourishment by eating in Italy; the power of prayer in India, and, finally and unexpectedly, the inner peace and balance of love in Bali. Based on an inspiring true story, Eat Pray Love proves that there really is more than one way to let yourself go and see the world. 
Thelma & Louise 
Two women, a turquoise Thunderbird, the ride of a lifetime. With this pop-culture landmark, screenwriter Callie Khouri and action auteur Ridley Scott rewrote the rules of the road movie, telling the story of two best friends who find themselves transformed into accidental fugitives during a weekend getaway gone wrong—leading them on a high-speed Southwest odyssey as they elude police and discover freedom on their own terms. The exhilaratingly cathartic Thelma & Louise stands as cinema's ultimate ode to ride-or-die female friendship.
How old are you? (2014)
'How Old Are You' takes us along on a woman's quest to unearth her long buried identity.  Nirupama Rajeev (Manju Warrier) has just turned 36, when we get to see her first, and age is a matter of growing concern for the woman who works as an upper division clerk at a government office. After a disastrous meeting with the President of India and becoming the butt of internet trolls, a shattered Nirupama stands aghast, post her husband and daughter flying away to Ireland in walks Susan David (Kaniha), an old classmate of hers who reminds her of the firebrand that she once had been, prompting her to take one hard look at the mirror and see beyond the grey hair strands that have been messily coloured. Nirupama's journey from an impassive government servant who hides a weekly inside her office file to a self strong woman who finally sets right her priorities in life.  With the age-old adage that triumph favours only those who are brave enough to lose ringing loud in her ears, she proves a point to herself as she finally leaves a signature in her world.
Jaya Jaya Jaya Jaya Hey 
Jaya is a smart and ambitious girl from a middle class family. Her family, and her uncle, under the idea of protecting her, take complete hold of her life. It also explores the casual and subtle ways employed by society to oppress women.  The film not only focuses on the amount of change Jaya undergoes but it also shows how men like Rajesh never change no matter what. Darshana Rajendran as Jaya delivers a spectacular performance and embodies girl next door energy. The shift between first half and second half makes it fun to watch and the transformation the character Jaya goes through is believable and eye catching. It is about time where directors make movies where female leads are not just a victim but are capable of taking action against their situations. 
Magalir Mattum (1994)
This movie, released in 1994 and directed by Singeetham Srinivasa Rao, boasts of being the first Tamil movie to deal with the sensitive issue of sexual harassment at workplace. The movie rested on an all-female cast, starring Revathi, Urvashi, and Rohini with Naseer playing the antagonist. It was an Indian adaptation of the American film 9 to 5  The three women work in a fashion export firm where the workers are primarily women but the boss is a man; a lecherous boss man who has his eyes on every woman in the firm – from the computer engineer to the maidservant. The plot of the movie sees these three women standing up to sexual harassment at workplace through their own methods – from kidnapping to a murder attempt. The movie tastefully deals with the serious issue of women empowerment with good humour and satire.Magalir Mattum, released in 1994 echoed the concerns of women in post-liberalisation India who had just started stepping out of the house in search of their identity and independence.
Queen 
A bittersweet Bollywood comedy of self-discovery, The surprisingly mild and sweet film tells the story of Rani, a naïve young bride from Delhi who is devastated when her fiancé calls things off, but decides to take her European honeymoon trip anyway, on her own. The heroine's fortunes change when she's taken under the wing of Vijayalakshmi (Lisa Haydon), an endearingly slutty, half-Indian hotel employee. Vijayalakshmi gives Rani the tools and courage to navigate her new world and introduces her to experiences she would've avoided in the past. Ranuat's performance when Rani finally lets loose at a disco is fierce, funny, and bewitching. Vijayalakshmi embodies one of the movie's main themes: that there are good people all over the world, from various cultures and living a variety of lifestyles. From Vijayalakshmi, Rani learns that being exposed to new ideas and experimenting with new activities doesn't compromise one's identity or morality. Queen is the epitome of a feelgood movie, yet it's substantive and truthful, thanks to the remarkably well-crafted character at its core.
English Vinglish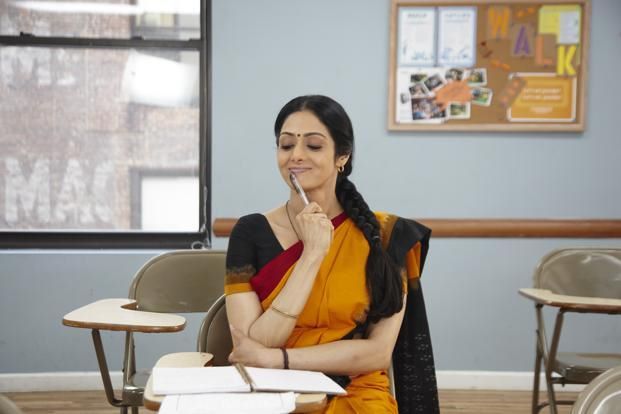 English Vinglish is a 2012 Indian comedy-drama film, written and directed by Gauri Shinde. The narrative revolves around a woman named Shashi, a small entrepreneur who makes snacks. Shashi enrols in an English-speaking course to stop her husband and daughter from mocking her lack of English skills and gains self-respect in the process.  A woman can change her situation, love herself, and get the family to love her back. English Vinglish is the journey of Shashi from a "vernac" wife and mom to an English-speaking wife and mom. After she reaches New York to help her elder sister plan her daughter's wedding, her not knowing English becomes a daily handicap. Shashi enrols in a four-week class to learn English.
Pink 
Pink is a powerful statement on the existing feudal mindset of a majority of India, where men and women are judged by a different yardstick. As it happens here, Minal, Falak and Andrea, three middle-class normal working girls, are just out for a regular night of fun. Post a rock concert they accept a dinner invitation from Rajveer and two others to a resort in Surajkund. Unfortunately the evening takes an ugly turn for them after a couple of drinks. Andrea finds herself being touched inappropriately by Dumpy and Rajveer forces himself onto Minal, despite her clearly saying 'No' to his advances. In self-defense she picks up a bottle and smashes it on his eye, leaving him bleeding. The girls return to their home hoping the night will just fade away. But their lives are turned into a living hell by the guys who malign and intimidate them in every way possible. The ultimate blow comes when Rajveer uses his powerful connections to file a wrong FIR against the girls labelling them prostitutes. When the matter comes up in court with defense lawyer Deepak Sehgall (Amitabh), who has a bipolar disorder, representing the girls, the film takes a dramatic turn, where the accused Minal is asked scathing questions on her virginity and drinking habits lays bare the double standards of the society we live in. Pink questions the society's mindset where we think girls with short hemlines and those who enjoy a drink with men are low on morals. It also tells you that whether a woman is a sex-worker, wife or slave, if she says 'no' to being touched, then no man has the right to force himself on her. Or outrage her modesty.
Ammu
The film revolves around Ammu, a simple young woman who aspires to have a happy married life. She ties the knot with Ravi ( Naveen Chandra) and begins a new chapter in life. Things appear to be absolutely fine initially, but take an ugly turn when Ammu's husband physically assaults her following a trivial incident. She soon realises that Ravi is nothing like she had imagined. After enduring numerous insults, she decides to teach him a lesson. Ammu teams up with Prabhu (Bobby Simha), a prisoner on parole, to ruin Ravi. This sets the stage for a cat and mouse game. 
Archana 31 not out 
We have already seen in many films how women, who get left at the altar, handle the situation and emerge a different version of themselves. Archana 31 Not Out, too, tells the tale of a rural Malayali woman, who tries to take matters into her hands as her wedding plans go awry. Archana is a teacher who holds a temporary job at a school in Palakkad. Alongside shouldering her family's financial responsibilities, she also tries to find a partner via the traditional 'arranged-marriage' route, though it proves to be hardly easy for numerous reasons. When Prasad, who works abroad, expresses interest to marry her, Archana feels a glimmer of hope and gets busy with the preparations. As the pre-wedding dinner gets served, Archana receives a call with unpleasant news. The movie goes on to show how she handles the conundrum.