In the 2010-19 decade, there were a mix of movies in Kollywood where some had absolutely no role for the heroine while some movies were made only for the Woman lead in the movie. Movies like Irudhi Sutru, 36 Vayadhinile, Aruvi were ones where primary importance was given to the woman character making them woman-centric movies. At the same time, we also had movies like Bigil, Petta, Mersal, Thaana Serndha Kootam, where the so-called 'leading lady' had not much of a role and only had screen space to romance the hero. 
Now, most of the movies that have a woman as its lead generally fall under the woman empowerment category. It generally revolves around the issues faced by the protagonist in society and addresses key problems such as patriarchy, sexism, misogyny, rape, etc. It often also gives us the story of how the said protagonist overcomes the particular obstacle that is put in her path, often ending the movie with a social message. 
In order to understand this even better, let's take the example of Jyotika's 36 Vayadhinile. The movie thoroughly outlines the struggle Jyotika faces to earn respect from her family members even though she has slogged all her life for them. This is a very common problem faced by many mothers, specifically homemakers, and the movie highlights it. The movie then moves onto how Jyotika breaks her barriers, does something for herself and proves herself, thereby also conveying a social message. 
Now, this is a pattern most women-centric movies follow. Be it Irudhi Suttru or Taramani, the movie  highlights a social issue and provides a social message in the end. Undoubtedly, it is wonderful to see such films on screen because ultimately we require movies to convey a social message. The visual medium is the best way to make a point and therefore movies based on women empowerment are welcomed with open arms. 
However, why not have a movie where a woman is the Hero and she just has fun? Why should men have all the fun, right? Jokes apart, the idea is to have a movie with no social message or problem that needs to be conveyed, but just a protagonist who is a woman enjoying her life and being a 'Mass heroine'. Yes, I mean why not a fully commercial film with a woman at the centre of it all?
If you think about it, almost all famous actors in Kollywood have at least one commercial movie to their credit. But, can you name one fully commercial movie where a woman actor has played the protagonist? 
What if we had commercial movies with Women leads? Before dwelling into that, let us look into the elements of a commercial film. A commercial film generally tends to glorify the Hero of the film with the following:
A classy entry 

A number of fight scenes to show his strength 

A peppy dance number with a glamorous dancer

A heroine to romance

A comedian friend to support every single action of the protagonist, and

A load of 'Punch' dialogues to attract claps and whistles.
Commercial movies have one sole purpose; to celebrate the Hero. Tamil film audiences are huge fans of Commercial films and we love a film with pure entertainment in it. 
Now, let us imagine the same commercial movie with a Woman as its lead. She will also be given the following:
A classy entry. 

A number of fight scenes can be placed here too to show her valour. It would be so new to see such fight scenes because women characters are very rarely shown as ones that can fight their own battles. They're mostly depicted as damsels in distress that need saving. 

While a peppy number will be a sure thing for a woman-led commercial movie, the randomly inserted glamour dancer can be avoided. 

If the tables turned, we might finally be able to see a movie where the actor romancing the protagonist will actually have no other role other than falling in love with her. It would be a different concept because we generally can't name one movie where a male actor has no depth to his character. 

Of course, we will have a comedian friend here too, to compliment the heroism of the actor. This can be played by female comedians too. 

Lastly, Punch dialogues are the very essence of a commercial movie. Our protagonist can be given some nice Punch dialogues, some even squashing misogynistic ideas!
So, you see, a commercial movie with a woman lead is not that different and in fact will be a very interesting watch. In fact, there have been a few movies that have tried this concept of a commercial movie with a woman actor as it's protagonist. One such movie is Jackpot, starring Jyotika and Revathi, where both actors just have fun and fight for the 'Jackpot'. The movie does not exactly follow the pattern of a Mass Heroine genre, but at least it was a good start to making such movies with a female lead.
Similarly, Aramm, starring Nayanthara, was surely not a commercial movie, but was also not one that conveyed a social message about misogyny or patriarchy. While it did surely have a social message, the topic it dealt with was different altogether.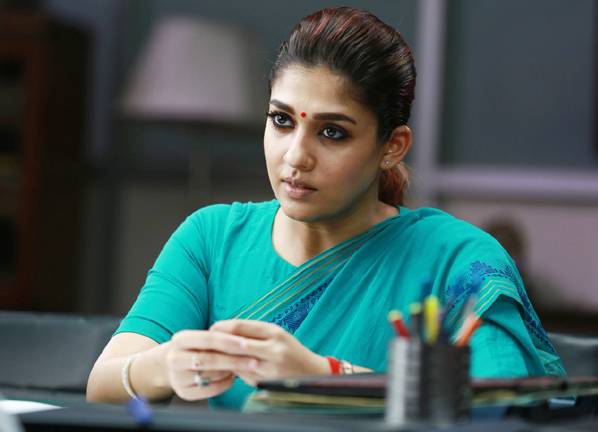 We're currently in 2021. Let's hope for many more such Mass Heroine films at least in this decade!