Director: M Muthaiah
Cast: Karthi, Aditi Shankar, Saranya Ponnavan, Prakash Raj, Rajkiran, Soori
Karthi was introduced into this Cinema world with Ameer's Paruthiveeran. The actor's performance was so good that he received several awards for it. His look in the film is a typical village one, and maybe considering it lucky, he did two other village films; Komban with Muthaiah, and Kadaikutty Singam with Pandiraj. Now, for the fourth time, Karthi has tried his luck with a Village film, once again with Muthaiah. Can we say Viruman is as good as Paruthiveeran? Continue reading to find out!
Viruman's storyline is a typical 'giving someone a taste of their own medicine' kind of a set-up.  It is about Viruman's (Karthi) rivalry with his father Muniandi (Prakash Raj), as he believes that the latter is the reason for his mother's (Saranya Ponvannan) suicide. The rest of the film is about him being at loggerheads with his father, and whether or not he finally manages to take revenge.
Muthaiah's films are always packed with family sentiments and values. If you forget how to call your mother's brother, then you can watch a Muthaiah film. His film will not only teach you the relationship, but also the value of such relationships. In many ways, Viruman also teaches the importance and values of relationships, especially brotherhood. But most of all, this film teaches us that 'Compassion is the best Revenge'.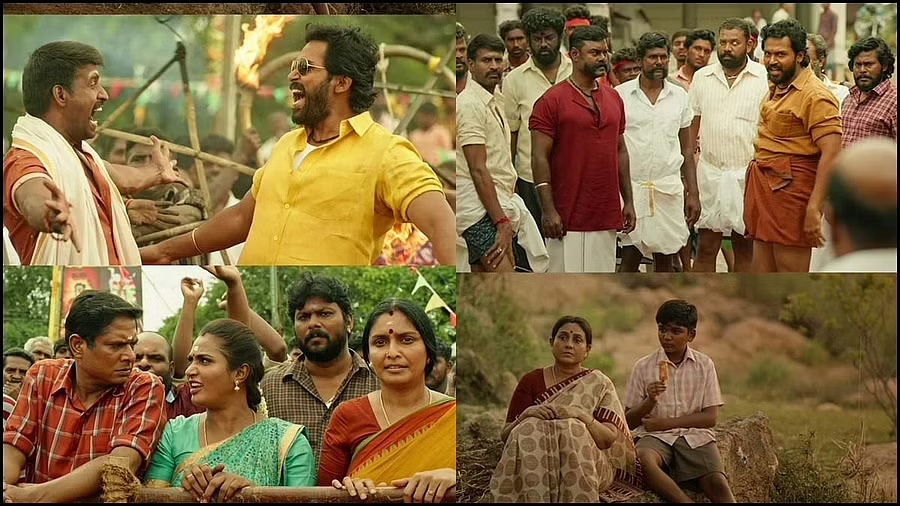 The movie's beginning itself establishes that it is a Pakka Commercial film. It starts with a fight scene showing the action hero Karthi, and then moves onto a Hero entry song. These are the two most fundamental aspects of a commercial movie, and this is mostly what the entire film is made of. Love tracks and lengthy dialogues fill up the space left blank after repetitive fight scenes and songs. At last, if we take all of these elements out of the film, we are just left with a one liner story. But because we know that it is a fully dramatic commercial film, we won't mind these elements that fill it up.
The entire film is a tit-for-tat game between Viruman and Muniandi. So, how the revenge bounces back and forth is what matters most. As this is a family drama, the twists and turns are not that difficult to predict. In spite of its predictability, this movie works because at some places the director has managed to really amuse us with twists. So, although the screenplay is filled with drama and monologues, the movie is entertaining because of these small yet important twists. 
The Heroine's character premise is set very interestingly. The director makes us feel like she is going to have a very heavy role in the film. But, we are in for disappointment, as she also eventually becomes any other commercial-film heroine. Thankfully, she is not a sexy lamp, and her character arc is interesting enough that the film becomes incomplete without it. 
Performances heavily carry this film on its shoulder. The movie has an ensemble cast. The supporting actors including Soori, Singampuli, Karunas, R K Suresh, GM Sundar, Manoj Bharathiraja, Vasumithra and Rajkumar, have all done their best in the little screen space they have gotten. The women, including Saranya Ponvannan, Vadivukkarasi, Myna Nandini, Arundhati, Indhraja and Indhumathi have played important roles, and have ensured that the movie goes on the right track. 
Coming to main performances, Prakash Raj was as stellar as he always is. Rajkiran's small action sequence, and the entire Mama sentiment completes the movie. We could however see shades of Paruthiveeran in Viruman, which could have been changed. But, Karthi's sentimental dialogues, and action-filled performance was powerful. Fortunately for him, this village role is most likely to give him success. This film introduces Aditi Shankar, who is here to stay. Although her role did not have that much depth, her expressions and dancing is worth a mention. 
About costumes, Aditi's Pavada Dhavani (Half saree) looks were perfectly suiting for the setting and scenario. However, Dr. Vinothini Pandian could have tried something new for Karthi, only because it immediately reminds us of his Paruthiveeran look. Similarly, Aditi's makeup and hairstyling could have been better thought of. But apart from that, the costumes were complimenting the scenes and scenarios perfectly. 
The songs and background music are composed by Yuvan Shankar Raja. Although there are only three songs in the film, because it is placed at unnecessary intervals, they feel unwanted. But the songs individually, are peppy, and will make us want to get up and Kuthu. Out of  the three songs, 'Madhura Veeran' in Aditi Shankar and Yuvan's voice is the most enjoyable song. 
Revenge forms the screenplay of the movie. So, we expect the movie to keep going with speed and to also come to an end with a complicated climax. But the 50 minute second-half ends abruptly with a monologue, making it no different than any other sentimental commercial film. It makes us wonder in what other way Muthaiah could have managed to finish the movie. 
Viruman's story is not exactly new and untold. It is probably what we would witness on a daily basis if we lived in Villages. But, Viruman works because this not only has Amma sentiment, but also Appa, Anna, Mama, Athai and many other such sentiments. If you were to visit the theatre to watch this film, you may not open your eyes with wonder. But, you surely will not be walking out of the theatre rolling your eyes. Viruman is an interesting family entertainer that reminds you of your relations and relationships!
Rating: 3/5
Verdict: Watch Viruman and call up your Athai, Mama, Anna and Chithi!