Director: Charlie Davis
Cast: Aparna Balamurali, Neeraj Madhav, Sruthy Suresh
With the abundance of movies releasing in India every week, we chase novelty and thrill in every movie we watch. We tend to see if the movie offers something new to us, and then judge it in terms of how well the concept is represented. In such a world, Charlie Davis' Sundari Gardens does not exactly have a new story. But, its light-hearted approach is what makes it worth it. 
Sundari Gardens revolves around the life of Sundari Mathews/ Suma (Aparna Balamurali), a school librarian who lives with her mother at Sundari Gardens. When a new English Teacher Victor Paul (Neeraj Madhav) joins her school, a divorced Suma falls in love with him. How she confesses her feelings to Victor, and whether the two finally end up together forms the rest of the story. 
Although the movie offers nothing new, it narrates the story of Sundari Mathews. We are given a clear character sketch of Suma in the first 10 minutes. We know that she has nobody else other than her mother, whom she comes back to after a busy day of work. We also know that she is extremely bold and that she does not show fear on her face. 
As a Librarian, Charlie subtly establishes that Sundari is well-versed with every single book's placement and details in the library. Such is her commitment to work. From here, the movie just revolves around Sundari. We see her eventually falling in love with Victor, and then we wonder what she will do about it. 
The movie is less than two hours and has no sudden twists or turns. Yet, it does not bore us at any interval. In fact, the movie is almost like a musical as most of the sequences just turn into montages with instrumental music in the background. Therefore the movie travels with the breeze and becomes a light-hearted watch. 
Aparna Balamurali is the soul of Sundari Gardens. As Sundari, a divorcee, we see the difficulties she faces without support or a life partner. There is a question about who she actually has in life after her family. Her insecurities and the bold decisions she is forced to take are portrayed very beautifully. In spite of the difficulties she has faced, Sundari takes life with a pinch of salt, a message we must all carry from the film. 
Neeraj Madhav and Sruthy Suresh have also given us wonderful performances in the film. Neeraj Madhav's casual acting made us all feel like Victor Paul was one of us. Apart from them, actors like Binu Pappu, Jude Anthony, Vijayaraghavan, and Sminu Sijo make important appearances in the film. 
As mentioned earlier, the music composed by Alphons Joseph just strikes a chord in our hearts. If we minus the music from Sundari Gardens, the film is half of what it actually is. Songs like Madhura Jeeva Ragam and Naal Haritham define the soul of Sundari Mathews. Apart from Music, the setting of the film is also worth appreciating. The house 'Sundari Gardens' and the place it is set in is just picturesque.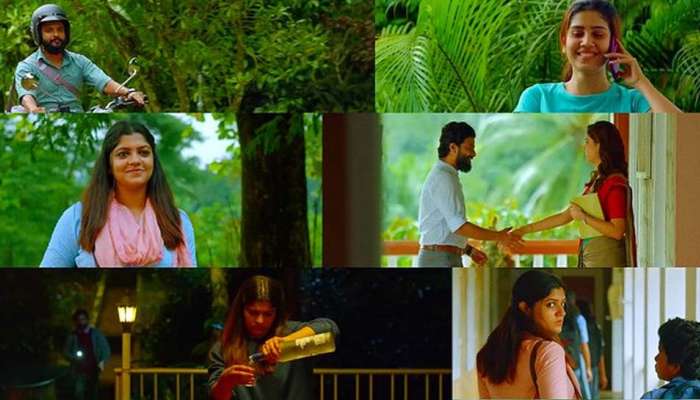 We tend to wonder what significance 'Sundari Gardens' has as a title, as Sundari Mathews would have made more sense. However, towards the end, with a little board, Charlie makes a statement along the lines of "Home is where the Heart is". Sundari Gardens is not a place, it is what Sundari makes her home. If you are someone who always wants a deep message or thrill factor out of a movie, Sundari Gardens may not work for you. This film is a slice-of-life about Sundari and it is just that. There are no added elements or mysteries to the film. But rest assured, this film will really make you think deeply about your life and love. 
Rating: 3/5
Verdict: Watch Sundari Gardens and feel empowered about your life decisions!
(Available on Sony Liv)