Cast: Rashmika Mandanna, Mrunal Thakur, Dulquer Salamaan
Director: Hanu Raghavapudi
From Ancient times to now, Humans are species that always need to see, hear, experience and visualise love. This is true for people all around the world, as epics and historical findings show us a peak of love stories here and there even amidst crime and war. So many love stories in Indian cinema are based on concepts of war and religion. This subject in particular is enjoyed by the Indian film audience. In this way, Hanu Raghavapudi's Sita Ramam, should be added to the annals of history as one of the best war-love stories. 
Starring Dulquer Salmaan and Mrunal Thakur, Sita Ramam is narrated by Rashmika Mandanna, who plays Afreen in the movie. She is given one small task of delivering a letter to Sita Mahalakshmi, for which the price she gets is Rs. 10 Lakhs. Of course, delivering the letter is not that easy as nobody knows who Sita is. She would have gotten herself out of this tangle, if only she did not badly need the Rs. 10 Lakhs. So, Afreen and all of us embark on this journey of who Sita and Ram are. 
Sita Ramam starts typically like any other war love film. We have had an abundance of love stories set in conflicts  such as Madharasapattinam, Veer-Zaara or even Roja. But, Hanu Raghuvapadi's Sita Ramam is different because in the beginning he does not even make us think twice that their love is going to have a block or conflict soon. It is rare to find love stories that are equally patriotic and have a number of unexpected twists and turns. The director has orchestrated this with ease in the film.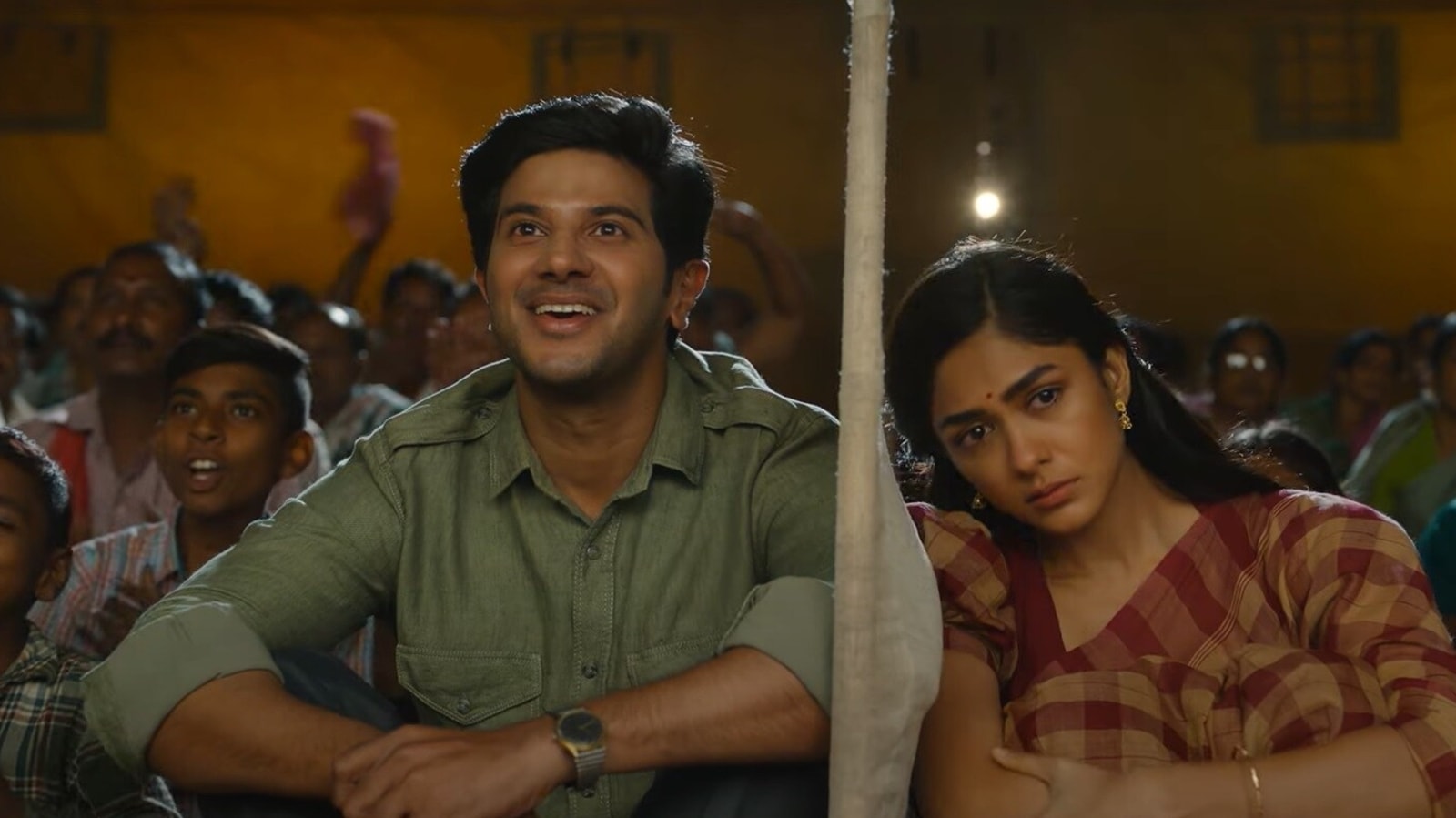 Now, those who are not fans of Romance films, may be able to predict the upcoming twists and turns. To be honest, these twists are not like those found in thriller movies. But to truly enjoy the film, one must dive deep into the world of Sita and Ram and not stay afloat. If you start watching the movie just like Afreen who is initially uninterested with her task, then maybe the story may not amuse you so much. 
The story proceeds a little slowly and has a long running time. But, in order to establish the kind of love between Lieutenant Ram and Sita Mahalakshmi, as well as the love Ram has for his country, the long screenplay is required. In some portions, you may get impatient, wishing that they revealed the twists all at once. But, some interesting comedy here and there, along with performances and visualisation help you sail through those scenes. 
The story is set in 1964, amidst war between India and Pakistan. So, there are a number of religious references, as well as references to terrorism. This was probably why the film was banned in Gulf countries. But in reality, this film should have been released worldwide with no ban as the movie's heart is in the right place, where it tries to spread the message about religious harmony, then and now. 
A big thanks to Hanu Raghavapudi for not resorting to stereotypes and cliches that are found abundant in Romantic movies. There is no portrayal of 'Hero-ness' that we find in most movies today. Mrunal and Dulquer are given equal-weightage roles without limiting the scope of their characters by basing it on Gender. 
The film truly has an ensemble cast, who have all played extended cameos. The cast includes Prakash Raj, Gautam Vasudev Menon, Tharun Bhascker, Sumanth, Bhumika Chawla, Abhinaya, and a few more. They all come and go like bits of puzzle pieces that form the puzzling love story Sita Ramam. Although their screen-time is limited, their roles are imperative for the lives of Sita and Ram. 
Rashmika, Dulquer and Mrunal make Sita Ramam what it is. Before the movie was released, it was said that Rashmika was playing an extended cameo. No, Rashmika plays a pivotal role in the film as a narrator, a role we have missed in a really long time. The roles of Rashmika and Mrunal are ones that beat stereotypes. Mrunal is not the usual glam doll we see in most Indian love stories. On the contrary, her role has its own backdrop that makes it interesting and gripping. 
Mrunal deserves many more films in the South after Sita Ramam. This being her Southern debut, she seems like a promising actor of the year. Dulquer Salmaan, is our ever charming hero, who makes it look like falling in love is easy. In an interview, Dulquer said he will not be doing romance movies henceforth. This movie will make you wish he revisits that decision. 
The costumes are designed by a costume designer Sheetal Sharma, who had to set the dressing also in 1964. The choice of colours, and styling for Mrunal Thakur is impeccable. As a watcher, you're most likely to fall in love with Sita Mahalakshmi, even before Ram does. That is the kind of magic the designer has invested in, to make Mrunal shine in traditional sarees and matching blouses cut and stitched in signature 60's style. Afreen's character is set in the 80's and even her costumes suit the character that she is. 
The only costume glitch that the designer could have been careful about, was what Mrunal wears in Kashmir. If Mrunal could afford to wear thin sarees in Hyderabad, that suits the hot weather of the city. But in Kashmir, where soldiers themselves are covered in sweaters, Mrunal is seen flaunting a thin saree, which is logically impossible. If this was better-thought of, then the costumes would have spoken even more volumes.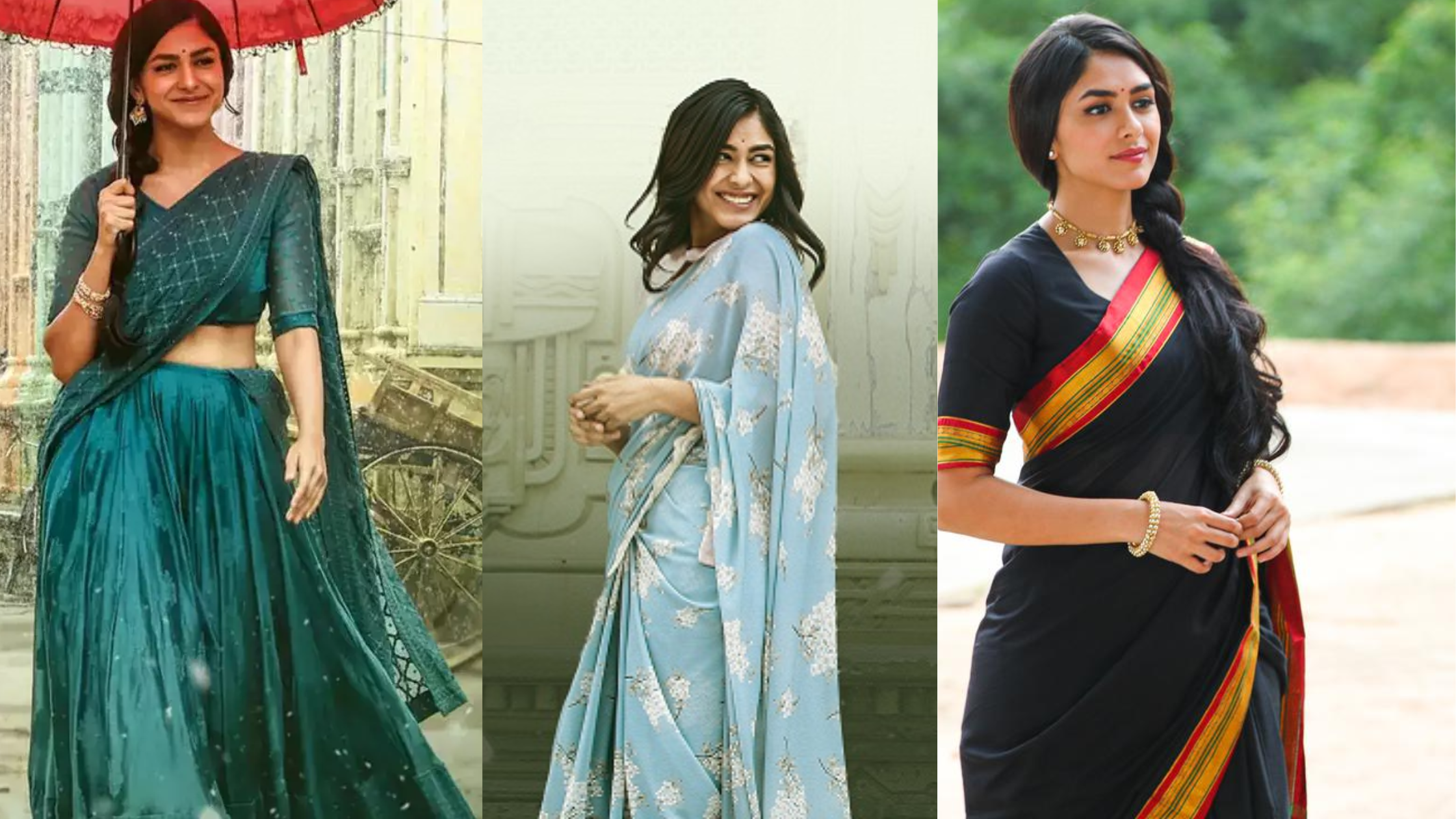 The film's background score and music are composed by Vishal Chandrasekhar. Music is 50% of what this film is today. When the movie takes a tragic turn, the melancholic music pulls at our heart and creates an impact. At the same time, when love blossoms in the air, we also feel like we could fall in love with someone at least to imagine ourselves in a Duet song. With just four songs overall, Vishal's SIta Ramam album is to be heard on repeat. In addition to this, the visuals of the film are grand, especially the songs. It makes it a must-watch in theaters, to fully take in and enjoy the colours and vibrancy. 
It is rare to find good love stories, with the abundance of them that we have in Indian cinema today. After Romeo and Juliet, Laila Majnu, and many more of these couples, Lieutenant Ram and Sita Mahalakshmi can be added to the list of historic fictional lovers to be remembered. The best part is that the movie leaves us with tears, but not a sad or tragic feeling. It hits our hearts the right way and makes us feel the right emotions. You can consider yourself really strong, if you leave the theatre tears-free. 
Rating: 3.5/5
Verdict: Don't miss out on this film, and don't forget to watch it in theatres for its visual beauty!