Cast: Kajol, Vishal Jethwa, Rahul Bose, Rajeev Khandelwal, Aahana Kumra
Director: Revathy
How often do we wonder about the life of someone who is diagnosed with a chronic illness? While the person diagnosed with the condition suffers from pain and anxiety of death, those with them are the bigger losers. Although they wait their whole life knowing that the patient may pass away at any moment, they keep hoping that it never happens. Revathy's Salaam Venky, which is based on a true story, tries to show us the life of such a patient and his mother. 
The movie revolves around Venkatesh (Vishal Jethwa), who is diagnosed with Duchenne Muscular Dystrophy, a degenerative condition that affects the muscles rapidly. The person diagnosed with such a condition typically does not live to see even their 20s. How Venkatesh's mother Sujata (Kajol) fights to fulfill her son's last wish, forms the rest of the story. There is a legal battle fought for Venky's dream, which, in real life, has actually bought a change in our society. 
Just like 'The Sky Is Pink' or any film that deals with such a chronic illness, Salaam Venky has its own share of sentimental dialogues and emotional background music that makes you cry at places. But more than that, the film tries to bring out the dilemma a mother goes through to fulfill her son's last wish. It makes us wonder about motherhood. Is it about saving your child's life, or fulfilling his last wish? Both being equally important, how does the mother take the decision? All of this is what makes up the movie.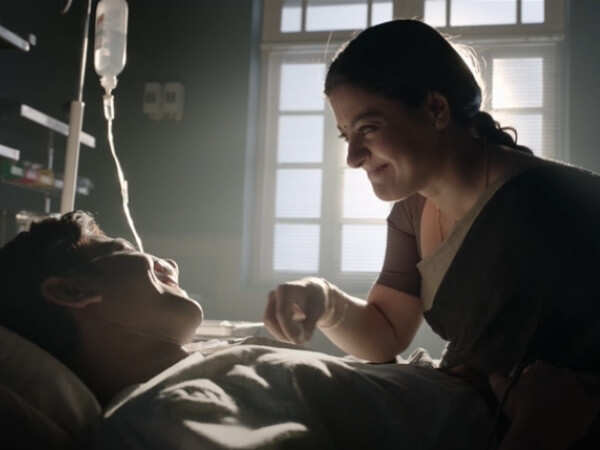 There is a lot of hope that the film communicates at the end. Ending on a very positive note, the movie reminds us to handle our day-to-day problems more optimistically. However, in some parts of the film, the characters, and the scenarios are represented as black and white. While we wish things were that easy, in reality, there are a lot of gray areas that should be taken into consideration. At a point, there is also an overpowering amount of melodrama, that should have been definitely avoided in a film like this. 
Kajol and Vishal Jethwa's performances are the very essences of the film. Sujata's entire dilemma and journey as a mother of such a child was essayed very beautifully by her. We often hear that people turn to comedy to battle a difficult situation. Vishal, as Venky, has realistically indulged in the character, making jokes out of his life and situation to ease the feelings of people around him. At the end of the film, we do wonder who else could have portrayed Venky better. 
Rahul Bose, Rajeev Khandelwal, Prakash Raj, Aahana Kumra, and Mala Parvathy, all play their parts in helping Venky achieve his dream. Aneet Padda and Ridhi Kumar's performances are truly worth a special mention. Aamir Khan plays an interesting cameo and has given his usual best.
The film is a good watch for what it conveys. But, more than that, the film is a good watch for Ravi Varman's Cinematography. Most of the movie is situated in a hospital room. But, Ravi Varman has done his best, as his Camera speaks in those parts of the film where dialogues are absent. For example, the visuals of the song 'Yu Tere Hue Hum' shows a beautiful romance set on a picturesque beach, making us want to travel to that very same beach, thanks to Ravi Varman's Camera angles. 
Mithoon's music is yet another treat the film offers. Be it the lullaby sung by Shreya Goshal, or 'Anda Bata Paratha' that explains Venky's childhood, the album is one that you will end up putting on repeat. 
Salaam Venky is one of the good films of the year. The emotional and sentimental high note could be counted as one of the negatives of the film, making it a little boring. But, no matter what, the film has its heart in the right place and it starts a conversation about an important topic, that we all have to think about. If you're someone who loves to watch a wholesome and positive film, then Salaam Venky is the right pick for you!
Rating: 3/5
Verdict: Watch Salaam Venky to know the life of the amazing Venkatesh Krishnan and his mother!