Director: Madhavan
Cast: Madhavan, Simran, Suriya, Shyam Renganathan, Misha Goshal, Muralidaran
When you enter the theatre to watch Rocketry: The Nambi Effect, you think you know what to expect of the movie. It is based on the life of Nambi Narayanan, and those who already know the story probably come for the film only to consume the story visually. But, in every instance, you constantly feel like you don't know the story yet. The ode goes to Madhavan's flawless filmmaking and of course his acting.
The movie revolves around one patriotic genius, who did so much for the country and always put his personal life second. Unlike most people, he is someone who gave up a NASA dream just to make India's ISRO dream come true. He is someone who dedicated his entire life only to ensuring that India comes first in Rocketry. But the movie shows us what consequences he had to face for the true patriot he was.
As expected, the film is fully scientific. But some portions completely become Rocket Science (Pun Intended). You tend to drown in the ocean of Science that Nambi introduces you to. But for a film on an Indian Scientist who achieved so much, it is extremely difficult to limit the Scientific aspects of the film. Thankfully, it does not affect your understanding of the ultimate message.
The movie is set with a message. It conveys how important the fact "Innocent until proven guilty" is. It conveys what the label 'Anti-National' can do, not only to a leading scientist, but also to his entire family for many many years.
So, the movie is straightforward and you know what to expect. Then how could it be conveyed differently? Here comes Madhavan's directorial creativity. The movie is set as an interview, and hence, we get to know the story in parts. Little by little, we get to know how much Nambi has done for ISRO's development. Secondly, we know when bad news is going to come, as Madhavan has dedicated a couple of shots just for us to predict bad news. For example, even though we know Nambi Narayanan was framed and arrested, the way Madhavan conveys the scenario through shots, and without actually spelling it, is just brilliant.
The small problem with the film however is that, the espionage part of film was conveyed way too quickly. If the audience is unaware of the Nambi's story, then they would be puzzled about how he was framed and for what reason. More time could have been dedicated to that portion of the film, as the film heavily relies upon it. There could surely be more clarity on how Nambi got trapped.
Coming to performances, Madhavan and Simran have lived as Nambi and Meena in the film. Their performance as both happy couples, as well as a family who lost everything, was beyond excellent. Misha Goshal, Shyam Renganathan and Muralidaran's performances were also pivotal for the film throughout. The entire cast has done a wonderful job, taking the movie forward. Special mention to Suriya, who plays a small yet significant cameo in the movie.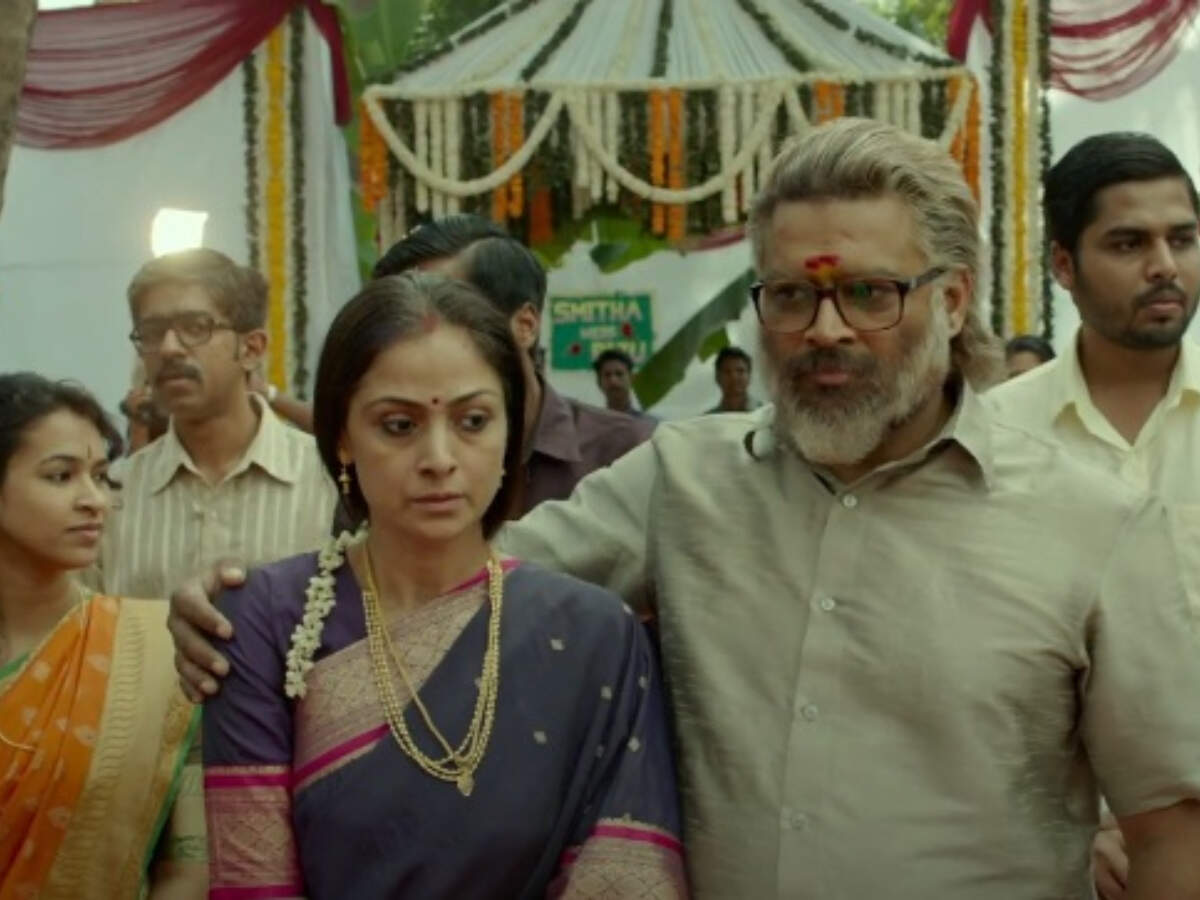 Costume and makeup needs a special mention. At every timeline, Madhavan's look is made to match Nambi at different ages throughout his life. The costume choices for the scientists, including Kalam, and Nambi's family were also quite meaningful.
As a biopic, the movie did justice on the whole. Even if you decide not to tear up, you end up wetting your eyes, because of the kind of struggle a prodigy like Nambi had to go throught just because he was a patriot. Rocketry: The Nambi Effect highlights important problems in our Judicial system and country. It also makes us wonder why such stories are not included in our History textbooks, because ultimately History is about correcting our mistakes!
Verdict: A must watch for Nambi Narayanan and Madhavan!
Rating : 3.5/5