Rajinikanth – an asset to Kollywood!
The Padma Vibhushan winner of 2016 has made history since the 70's with a number of movies and awards. It's his skill and dedication to his profession that has brought him all the way here. Notable movies in his career where he proved his acting skills include Apoorva Ragangal, Mullum malarum, Aarilirunthu arubathuvarai, Thalapathy and much more. He has also acted in Telugu, Kannada, and English.
Mullum Malarum (1978)
Rajini played a brilliant character called 'Kaali' in this film and the style of having signature dialogues for movies began here. The signature dialogue of the movie was "Ketta paya sir intha Kaali!" meaning "I'm a bad man!". Kaali is a stubborn character and when he loses his hand in an accident, he is put down by everyone around him. Rajini would have done a great job in both facial expressions and body language. Gayathri Sreekanth wrote in The Name is Rajinikanth that it "gave a new dimension to brother and sister relations on screen" and established Rajinikanth as an "actor par finesses". This is the first film that got the superstar his first Award for Best Actor by Tamil Nadu State Film Awards.
Aarilirundhu Arubadhuvarai (1979)
As the name says, the story revolves around Santhanam (Rajini) who is a 6-year-old son of a widowed mother with three children. Rajini being the eldest brother works hard to raise the family and gets his siblings settled. But once his siblings were settled they abandon him. His girlfriend also dumps him to get married to a rich man. He gets married to a poor woman and raises his family in poverty. But his wife dies in a fire accident and he gets a lump sum of the amount from her insurance. Cho (who passed away recently) is his only friend who stood by him through his ups and downs helps him start a publication with that money. Rajini becomes a successful writer but dies at the age of 60 longing for his wife. Thus, Rajini's transformation from his young age to old age will be sensible and appealing. The core of the movie lies in Rajini's emotions. Rajini has starred in a number of movies portraying a lifetime of a character but the stepping stone was laid in this movie which brought a huge fan following.
Netri Kann (1981)
Rajini played a duo as both the villain and the hero of the film. Chakravarthy(the villain) is a womanizer and his son Santhosh (Rajini himself) finds out his father's provocative nature. Netrikann, at that time, was a revolutionary movie where a rape victim (Saritha, who gets raped by Chakravarthy) joins hands with the hero to teach the villain a life lesson. As a villain, he could make the audience hate him and as the hero, he could make the audience adore him.
Thillu Mullu(1981)
Thillu Mullu is a remake of Hindi movie 'Gol Maal'. This was an important milestone in Rajini's career as he tried comedy for the first time after a long series of action films. The movie was directed by the legendary director K.Balachander (who introduced Rajini to Kollywood). Rajinikanth had to shave his mustache for Thillu Mullu, making it the first film which featured him without a mustache. Rajini took up this film only on the basis of K.Balachander's advice to take up non-commercial roles. The legend was not at all wrong. The film was a blockbuster and also got Rajini
Moondru Mugam (1982)
A daring experiment by the actor in his career where he plays a triple role. The character Alex Pandian is one of the most remembered characters in Rajini's career for the impact it had. The unique look and delivery of dialogues bagged him the Best actor award from the Government of Tamil Nadu.
Nallavanuku Nallavan (1984)
A remarkable movie by the actor that gained him a family audience and also his first Film fare award for the 'Best Actor' in Tamil in the year 1984. The movie made a box office of 2.83 crores and was also remade in Kannada, which had a 152-day run in the screens.
Sri Raghavendra (1985)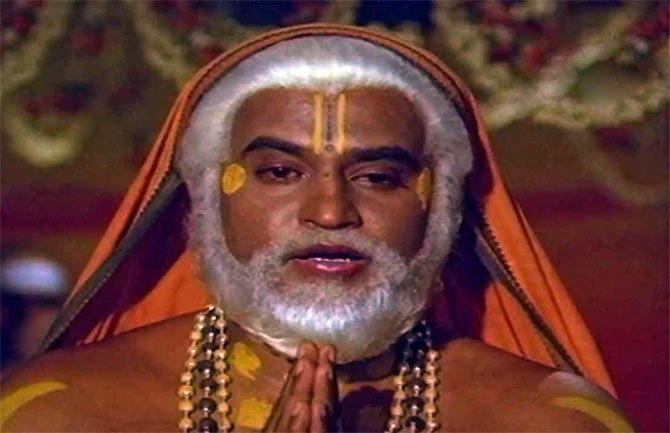 Right after Nallavunu Nallavan and a bunch of awards that he had received for the film, the actor chose a story by himself being inspired by his favorite Kannada actor Rajkumar's performance in the movie Mantralaya Mahime in which he had acted as Sri Raghavendra. Rajini proved his acting in this film where there was no space for action or style, yet it reached the box office and also bagged him his second award for Best actor from Cinema Express awards and Film fans Association Awards. This was the 100th film of the actor and did not receive a penny for acting in this movie.
Thalapathy (1991)
A classic by Mani Rathnam portraying the friendship of the mythical characters from the epic Mahabharatha, Karnan and Dhuruyodhanan in the movie as Surya and Deva respectively. Rajini, playing the role of Surya in the film expresses his anger towards inequality, love towards his girl, friendship for Mammooty who plays Deva and his longing for his mother. The clean mixture of emotions made it an important milestone in his career.
Baasha (1995)
One of the most remembered and celebrated movies by Thalaivar fans. The movie is known for various elements which include the "Autokaaran" song which left the auto rickshaw walas crazy over him; The famous dialog "Nan oru dhadava sonna, nooru dhadava sonna madhri" is  one of the most dubbed dub smash videos till date; Last but not the least, the 'Baasha theme music' still gives goosebumps to his fans. Like his other movies, he would have acted in two different roles by the same character and the contrast is simply brilliant. It holds a box office record of Rs.250 million (equivalent to 1 billion or US $15 million).
Enthiran (2010)
He surprised the audience with his screen presence as a villain after decades. The contrasting looks of the actor in different parts of the movie left everyone awestruck. Apart from the script, expensive sets, and all the supporting factors, his acting stood out from the crowd in this film after a long break. Just like other films, Enthiran also has its signature dialog "Vasi, mehehe" which he says while playing the villain. The star is both the villain and the hero of the movie!
Kaala (2018)
Contrary to most of Rajinikanth's films, Kaala begins with a deep look into the emergence of class divide and society told via animation. He plays the messiah of all the subalterns in Dharavi, who takes care and ensures that 'his' Dharavi is never harmed. Much like his dog always by his side, Kaala is territorial and rightly so, always thinking of the inhabitants who fight for their rights and state of living, something that politician Haridas Abhyankar (Nana Patekar) stands against. And this film is where Rajinikanth the actor shines, not Rajinikanth the star – a role that one would remember fondly.
The actor turns 68 today and he hasn't stopped amusing his fans!