Cast: Karthi, Trisha, Vikram, Aishwarya Rai, Jayam Ravi, Jayaram, and many others
Director: Mani Ratnam
When a book is made into a film, it is generally open to interpretation by the director and writers of the film. Even the best production cannot exactly translate a book into its perfect movie version. But, when the book is a classic ones, the readers expect it to atleast be a visual version of the book, with some sequences altered. Mani ratnam's Ponniyin Selvan is more of an adaptation of Kalki's classic, rather than just a visual version of the book. 
It is known worldwide that the film revolves around the Great Chola king Raja Raja Chola. It revolves around the conspiracies surrounding the Chola empire. The story is not easily explainable in a few lines. Characters are the lifeline of the story, however, Mani Ratnam's version misses out on some characteristics. We miss out on Vaanathi's (Sobitha Dhulipala) shyness and Poonguzhali's (Aishwarya Lekshmi) playfullness, to name a few. 
It is acceptable and understood that the screenplay has to be changed when a book is made into a film, in order for it to make sense as a film. However, Mani Ratnam has opted to alter the storyline altogether, in not one or two instances, but throughout the film. For example, Kundavai (Trisha) and Vandhiyadevan (Karthi) meet for the first time at Kudanthai Jothidar's house. However, that character does not even make an appearance in the film. The two characters are made to meet directly in another scene. Similarly, the attempt to muder of Kandha Maaran (Ashwin Rao) is also completely removed from the film. Unfortunately, these sequences are important for the story to be complete.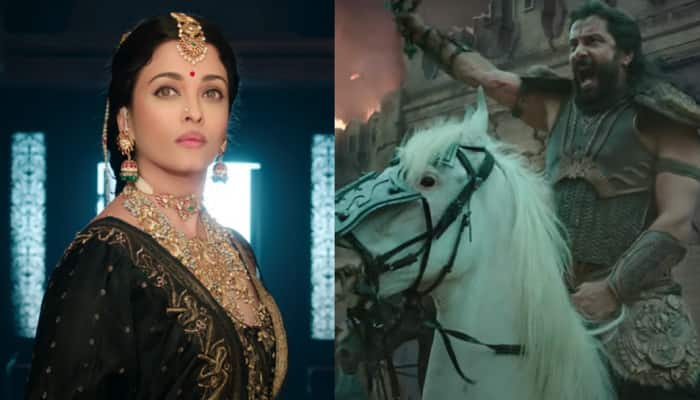 There is also a lack of clarity in some places. As a huge novel has to be made into a film, the scenes and dialogues have been rushed quite a bit. And therefore, those who don't already know the story may feel left out and confused at some instances. For example, the final climax scene where Arunmozhi Varman (Jayam Ravi) and Vandhiyadevan fight the Pandiyas, the fight itself is very rushed. There are also insertions into the story. Kundavai never meets Aditha Karikalan (Vikram) to bring him back to Thanjai. Kundavai never addresses the smaller kings at a court meeting. We can say that these have been added for a more convinient screenplay. However, this is then a completely new and different version of the original book. 
The movie's biggest plus point is its stellar cast and their performance. It is impossible to name every single one of them and to point out their wonderful performance. However, Aishwarya Rai, Jayaram, Karthi, Trisha and Jayam Ravi are to be specially mentioned. They have all shown a new version of themselves, perhaps Mani Ratnam's version or brilliance in bringing out their best performance. All the other actors have also done a brilliant job, and have ensured that the movie is entertaining and enjoyable. The movie's actors are the lifeline of the movie, Mani Ratnam has made the wisest choice in terms of casting.
The song choreography, specifically Devaralan Aattam and Raatchasa Maamaney is beyond imaginable. The visualisation for this songs cannot be described in mere words. Brindha Gopal, AR Rahman and the art director Thotta Tharani are all to be credited for this. Speaking about art, the design has ensured that we all reverbrate in Chola pride by remembeeing their marvelous architecture and buildings. Eka Lakhani's costumes and jewellery selections are also grand and suit the time period. The specific kind of costume, hairstyle and colour palattes used for each character has been well-designed by her. 
Technically, CG work could have been a little better. The final climax fight scene in the sea lacks clarity because of poor CG work. In many places, the grandeur of the ships and setting are lost because of the CG. AR Rahman's background score could have also been better. While his songs are brilliant, his background score did not evoke the goosebumps in scenes where it should have. And therefore we miss Rahman's usual best.
On the whole, Ponniyin Selvan I is Mani Ratnam's version of the story. It is a good watch for those who haven't read the book as they will know the story only then. But non-readers remember, this is not Kalki's Ponniyin Selvan, it is Mani Ratnam's. Those who have read the book are bound to disappointment, but lets try to forget that and celebrate the movie for the pride it evokes amongst the Tamil folk. 
Rating: 3.5/5
Verdict: Watch Ponniyin Selvan in theatres and know Mani Ratnam's version of Kalki's Classic!