Navarasa is a netflix series which brings out 9 different emotions through 9 different stories. Stories has its ups and downs, some conveyed the emotions while some tried it best. This Mani Ratnam's presentation has a special space for women. The series have huge, significant women characters and they conveyed the emotions. Women had a definite edge, they portrayed compassion, bravery, fear, love, anger, disgust and so on. They were just there in all the nine rasas. Scroll down to meet the extraordinary and strong female leads of Navarasa, who are sure to leave you spellbound with their performances.
Savithri: (Edhiri – Compassion)
This is the story of a middle-aged woman named Savithri, who has not spoken to her husband in the last ten years. Savithri lets her husband's murderer to leave the house without making a fuss, though this episode aimed on showing Savithri a compassionate woman, it didn't happen the right away. There was this conflict between grief, guilt and morality throughout. Her character is constantly transforming and she evolves with each scene and this made us crave for her screen presence more and more. Making Savithri take the blame in the end for the actions two men is not fair!
Lakshmi: (Summer of 92 – Laughter)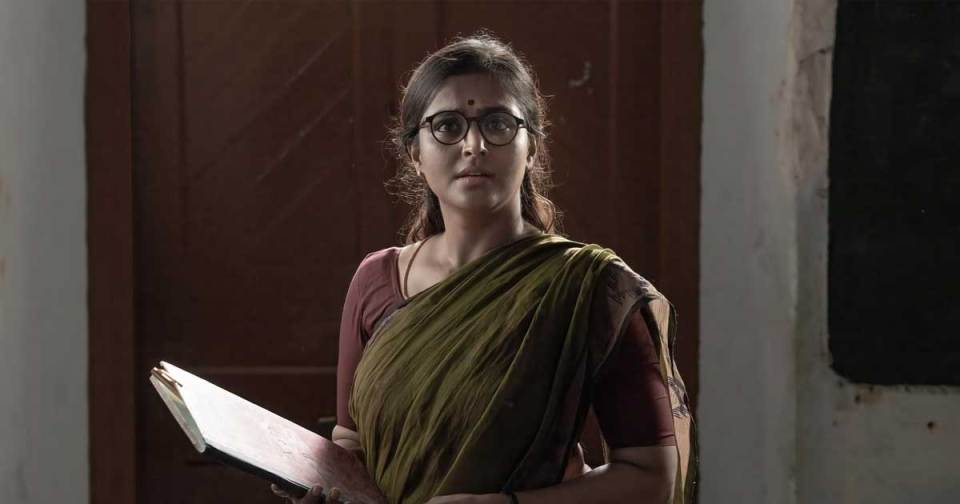 A calm, composed teacher looks for the good in everyone, especially her students. She had a great love for dogs and took good care of them. Simple and beautiful she played a satisfactory role in the episode. Played by Remya Nambeesan, she did justice to the role allotted to her.
Bhagyalakshmi: (Payasam – Disgust)
Bhagyalakshmi played by Aditi Balan didn't have a major portion, yet she is the one who delivers the rasa of the episode 'Bheebhatsa'. Widowed at a young age, she did face a lot of difficulties, challenges and unpleasant treatment as a woman in the episode. Bhagya runs errands and does chores without confining herself in a corner of the house. This shows her bravery. Picking her up, carrying a smile effortlessly is what inspire us as a woman and also a human. She takes care of her father and did convey her opinion in a single expression, when he upturns the pot containing the ceremonial sweet dish— payasam.
Vaalamba: (Payasam – Disgust)
Valamba is the late wife of Samanadhu (Subbu's uncle). She reminds Samanadhu all the good deeds, financial help and moral support Subbu did to their family when he bitches about his nephew. She is the epitome of morality, Samanadhu is constantly judged, guided and pampered by her. Valamba acts with her conscience as her moral guide. She is there for her aged husband with so much love and affection, at the same time she didn't let go of her morality for her husband's sake.
Anbukarasi: (Roudhram – Anger)
Anbu who is shown nerdy, ambitious and playful initially grows up into stubborn and angry police woman. Anbu, the anger that she started to feel all those years ago hasn't gone away and is directed at herself. She knows that everything her mother did was for her family and she deeply resent herself for it. Her self-loathing is so enormous and all-consuming. The rage gets built within her, this gets reflected in her job years later also it didn't allow her to visit her mother who is in her deathbed. Anbu hopes to break free from the clutches of poverty and beat the patriarchy with her education in her childhood days, she did become a police officer but is suffering a chronic pain of rage and indignation.
Muthulakshmi: (Thunindha Pin – Courage)
Muthulakshmi played by Anjali, is pregnant and is waiting for her husband's arrival who is a newly appointed army official. We wished more of Muthulakshmi in the story as her courage of waiting for her loved one despite police's words stunned the audience. Her dialogues, attitude and character are potent and stubborn. One of the strongest women of Navarasa series and we missed seeing more of her onscreen.
Wahida played by Parvathy Thiruvothu is a middle aged woman. She plays an intense character with a negative shade. Married to a wealthy, terminally ill man, Wahida raises the issue of women living in fear. Intelligent and bold, she loots the money from her earlier life and lives a lavish calm life in her thirties. She is in a constant guilt and fear for the stuff she did in her past and this consumed her whole mind and body. Eventually Wahida kills herself. She displayed the rasa 'Bhaya' in this episode. Ammu Abhirami did a fabulous job as a young version of Wahida.
Nethra: (Guitar Kambi Mele Nindru – Love)
A straightforward, happening girl in her twenties is Nethra. Realistic and practical she charms both Suriya and us with her attitude and her will to get what she wants in life. There is a common notion, that women should not take the first step in a relationship. Here, Nethra expresses her love and attraction towards Kamal in the very first meeting of theirs. A modern, fun loving and ambitious woman, she knows what she wants in life.
Megavarshini S G