Director: Karthick Naren
Cast: Dhanush, Malavika Mohanan, Samuthirakani, Smruthi Venkat, Aadukalam Naren
Karthick Naren's directorial journey started with Dhuruvangal Pathinaaru, and it includes other movies like 'Project Agni' from Navarasa and Mafia: Chapter 1. Maaran marks Karthick's fourth film, and it is nothing like the other three. So, for all those who have been a part of Karthick's directorial journey, Maaran is a movie that does not exactly have Karthick's signature. Rather, it deals with a bunch of cliche sentiments and political-journalist games. 
To be put in simple words, Maaran revolves around the life of Mathi Maaran, an investigative journalist, who faces conflict when he decides to publish a piece busting a Politician's wrongdoings. What conflicts he faces and how he solves them, form the rest of the story.
Now, the trailer itself suggests 2 things. Firstly, Maaran (Dhanush) and Tara (Malavika Mohanan) are journalists. The movie shows Tara as a photojournalist and Maaran as a straightforward and fearless investigative journalist. Secondly, the trailer clearly shows that Maaran has a very close relationship with his sister Swetha (Smruthi Venkat). This is further explored in the film, and the relationship slowly becomes the movie's lifeline. 
Now, if not for the journalistic side of things, the movie is just yet another one on brother-sister sentiment. It is not very different from movies like Vedhalam, Annaatthhe, or Namma Veetu Pillai, except that this one is surely a better-made movie. Apart from the very predictable family sentiments, what keeps the movie going forward is how Maaran uses his journalistic skills to tackle every situation he is challenged with. 
The first 10 minutes of the movie are very predictable and as regular Tamil movie watchers, we can easily figure out the background behind Mathi Maaran's idea to become a righteous investigative journalist. The movie moves with this slow pace for almost 3/4th of it and catches up only towards the fag end of the story. 
In one scene, the director has cleverly illustrated the proverb, "The pen is mightier than the sword." Now, the proverb means that words are more capable of causing a revolution than an actual sword or acts of violence. However, in a fight scene, Maaran is seen using a pen to stab all the goondas who have come to attack him. He succeeds in proving that his pen is his weapon, everywhere. However, for a movie on journalism and family sentiments, Maaran had one too many fight scenes. After a point, these fight scenes just start boring the audience as they become mundane and repetitive.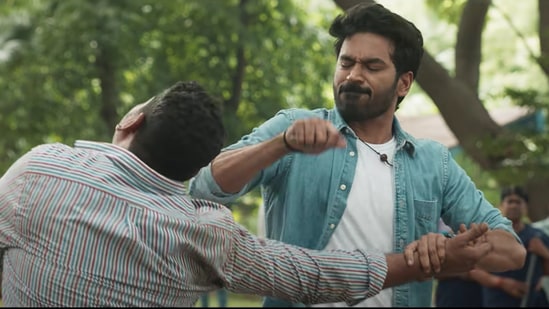 The movie tries to set a series of serious conflicts, but it fails largely because of how scenes are just stitched together one after another, without a good flow to it. While it tried to be a serious investigative thriller involving family sentiments, Maaran just turns out to be a bland so-called thriller, with a good amount of style and performances. 
The movie ends on a very abrupt note as the search for the culprit; which makes up for most of the movie; ends very quickly and without much thought. Towards the end, we all feel like we need to see more of Samuthirakani, Ameer, and even Malavika Mohanan for that matter. For most of the movie, we only see Dhanush and Smruthi Venkat, while other actors are largely underused. 
With this being said, Malavika Mohanan's role could be replaced with any other supporting actor, and the movie would do just fine. As usual, this is one of those movies where the actress is given a meaningless role and is involved in the film only for the hero. Malavika Mohanan sure did well with her role, but she was one of the main actors who were underused in the film. Actors Krishnakumar Balasubramaniam of Soorarai Pottru fame, and Smruthi Venkat, have fully explored their talent with this film, and have given brilliant performances. One big positive of this film is that it has very good performances, which makes it watchable. 
The movie lacks life, as it becomes highly predictable with the audience being able to guess every twist and turn. For a director who gave a brilliant debut, Maaran is a disappointment if not a failure. 
Rating: 2/5
Verdict: Watch it only if you are a big fan of Dhanush.