Director: Puri Jagannadh
Cast: Vijay Devarakonda, Ananya Panday, Ramya Krishnan, Chunky Panday, Ronit Roy
We have no dearth of Sports films in Indian cinema. Puri Jagganadh itself is credited for Yuvaraja, and Amma Naana O Tamila Ammayi, both films that are based on boxing. If anything, Puri's latest is a frustrating crossbreed of these two films. The director attempts to tell the same old story in a different way. Yet, he fails miserably as we get increasingly impatient wanting to run away from the theatre. 
The movie is all about Liger (Vijay Devarakonda), the son of a Mixed Martial Arts fighter who also aspires to become like his father. His mother struggles to make him an MMA champion. His only weakness is his stammer. How he overcomes this weakness, along with his weakness for his girlfriend Taniya (Ananya Panday), and becomes a 'Champion' forms the rest of the story. 
When we watch the trailer, we think the movie really focuses on MMA. The sport is an interesting one, and that's probably what lures us to the theatres. But, MMA is not even 50% of the film. In fact, the first half is more about showing Liger as a hero and 'Saala Crossbreed' than actually focusing on the sport involved. While we think the story is heading somewhere in the first half, it just leaves us annoyed at the intermission.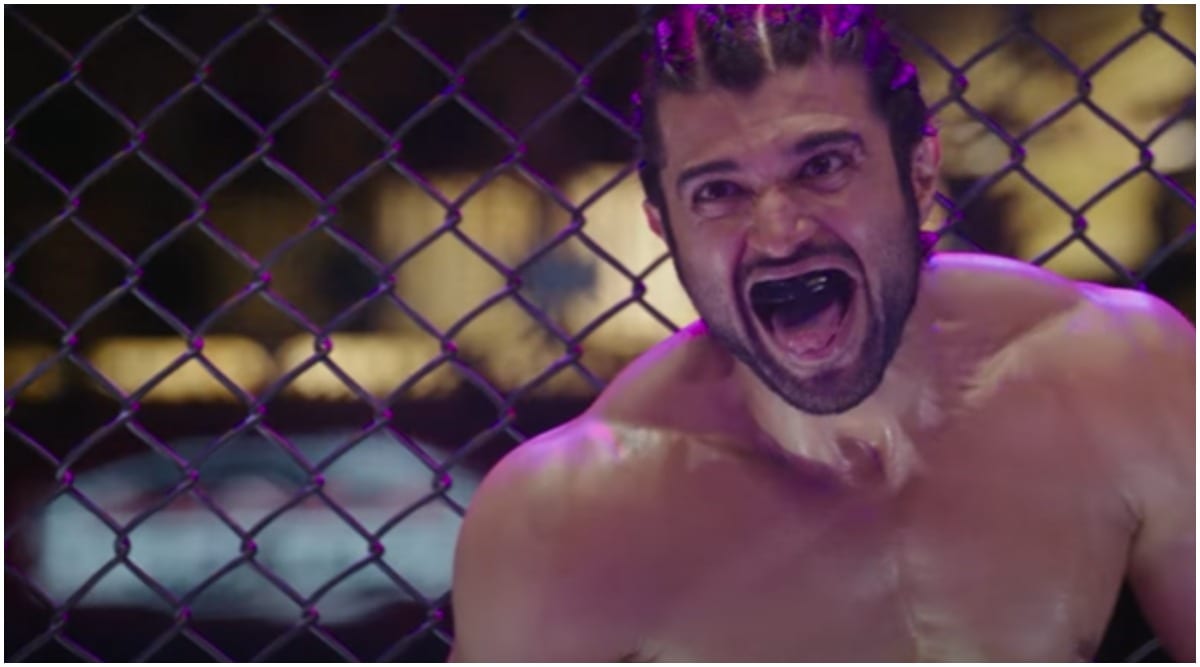 Vijay Devarakonda fights goondas in his introduction scene. Now, watchers initially have a relief that at least he knows MMA and that's why he fights this well. Unfortunately, we soon realize that he has not received formal training, and his fighting actually comes 10% from genes and 90% from Heroism. Again here, Puri Jagannadh has submitted himself to a stereotype. 
There is no character depth to that of Vijay Devarakonda's Liger, except for the fact that he stammers. It is established that he lost his father in a match, and therefore strives to become a champion just like him. But isn't this what we have already seen in M Kumaran Son Of Mahalakshmi? So what's new about Liger? His stammer? Well, even that gets annoying and frustrating over a point where we feel that it is reiterated beyond the requirement. 
We next come to Taniya played by Ananya Panday. Puri cleverly tries to establish Taniya as a woman with a flawed character. But this prodigal daughter is merely just yet another glam doll whose absence will literally make no difference to the movie. She is a rich brat who throws Liger away because of his stammer. She has no problem with his family, upbringing, or economic background, but has a problem with his stammer. And guess what, she belongs to a family of a Millionaire. Is this even a believable plotline? 
The stunts in the movie are what make us sigh a sigh of relief amidst the 140 minutes of a repetitive and predictable storyline. Ronit Roy plays Liger's coach, and he is one convincing character that maintains his pursuit throughout the film. The movie unwantedly introduces a Legend like Mike Tyson and converts him into a stunt artist. All of this is just to show the "prowess" of our very own Saala Crossbreed. 
A serious problem in the film is its failure to maintain continuity. Liger's biggest weakness is his stammer. But somehow when he fights with his opponent in the ring, his stammer is long gone. When he speaks to the Media about his pride for India, he forgets that he had a stammer all along. Similarly, in so many instances, his stammer just magically disappears, conveniently enough for the situation. 
The director tries to justify the cliche character arc for Ananya by placing a fight scene where women who have learnt Krav Maga thrash up Liger. Even then, he does not make up for all the injustices done against Taniya's character in the film. There is demeaning of character and stereotyping of women based on outfits that they choose to wear. In this already problematic world, such a message is completely unwarranted. 
Vijay Devarakonda's physical transformation and stunt sequences is the only ray of hope this film has. Still, he could have continued doing films like Dear Comrade and Githa Govindham, where his character still had some meaning. The audience can do nothing but pray that Ananya Panday would have done so much better if she had a better character arc presented to her. Ramya Krishnan is a real breath of fresh air in the film. Her performance is worth a mention. But again, the director has merely used her talent for the 'Amma Sentiment'. 
The songs from Liger are another problematic aspect of the film. As singles, the songs may have become a hit. But, in the film, the songs test our patience and get on our last nerve. While we are already frustrated with the lack of movement in the story, songs just come out of nowhere, probably with the intention to lighten up our mood. Well, the songs make the matter worse, as they are placed at awful junctures. 
The movie is one that we have watched so many times over the years. It tries to convey ambitious ideas but fails miserably. At its best, it is another Amma Sentiment film. And at its worst, it is a movie that satisfies the 'Male Ego'. There is literally no purpose to watching the film, as it is a mere recital of someone's life, and it is not even intriguing enough. 
Rating: 1.75/5
Verdict: Watch it only if you want to invest in a massive cringe-fest!