Directed by Venu Udugula, Virata Parvam starring Rana Daggubati and Sai Pallavi in lead roles is set in 1973 Rural Telangana amidst the Naxalite movement. The movie also stars Nandita Das, Priyamani, Naveena Chandra and Zarina Wahab in supporting roles. The movie revolves around Vennela (Sai Pallavi), a young woman who follows her pursuit of love towards a Naxal leader, Ravi Shankar (Rana Daggubati).
The movie is like any other love story, except that it is set in guerilla warfare. Vennela's character arc is established from the very first scene of the movie, where is adamant and will achieve anything that she sets her heart to. As a grown woman, she sets her heart to be with Ravi Shankar and pursues him, leaving her home, family and safety behind. She goes through an immense struggle living on the roads to find a Naxal leader, whose identity is concealed, but little does she give up. 
So why is this movie special? Generally, for a love story of this kind, especially where the protagonist is a revolutionary fighter, the movie will be testosterone-filled and packed with energy. The story will be narrated from the eyes of the Male lead, and how he accepts or declines the female lead's love. 
However, here the movie is a first-hand account of Vennela's life. It is about how she starts falling in love with Ravi Shankar, and how she finds ways and means and shortcuts to somehow reach him. It is about how she struggles to convince him of her love when he rejects her. It is also about how she ends up joining the revolution as it is the only way she can be with him. Whether he accepts her love or not, and the fate of the duo, of course, forms the rest of the story. 
Venu Udugula's use of women to tell the story is what matters the most. Yes, it is Vennela's love story. But, the story steadily portrays strong women from start to end. Nivetha Pethuraj plays a cameo and ensures that Vennela is born. Easwari Rao, stands by her adamant but determined daughter at every instance. Priyamani plays Bharathi, a comrade who fights shoulder-to-shoulder with Ravi Shankar and warns Vennela of the consequences of women joining the revolution. Lastly, Nandita Das who plays Ms Shakunthala, schools Vennela about the rights and wrongs and leads her to her lover, Ravi. Without the support of these amazing women characters in the film, Vennela's love story would be incomplete.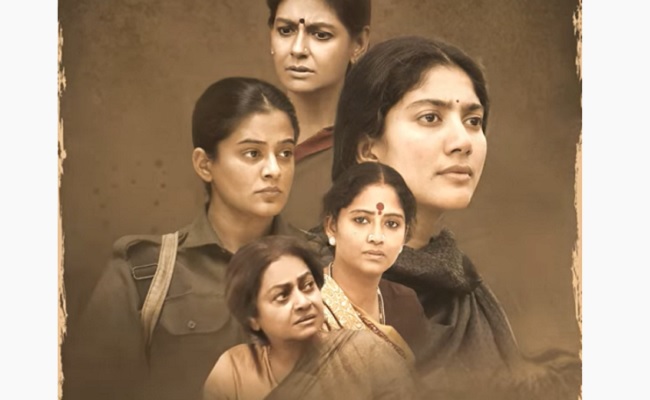 When compared to the screen time of Sai Pallavi, Rana's screen time is less. As it is Vennela's story, Venu Udugula and the entire team could have easily marketed the film as a women-centric one. Kudos to him for not doing the same. The presence of women characters or a woman lead alone does not make a story women-centric. It is the depth and character arc given to such characters that make them that way. In this way, Virata Parvam is a truly women-centric film. 
We need more love stories like Virata Parvam because most love stories in Indian Cinema revolve around the feelings of the Hero and never the Heroine. We need more love stories like this one, that narrate to what extent women can go for love, not only men. We need love stories that are more about true love and sacrifices rather than just romantic songs or date nights. We need more love stories that are set in difficult backgrounds like warfare and conflict. Lastly, we need more love stories that convey love just as how much Vennela had on Ravi.