"Sir oru vela Pootu Pota suitcase ah irukumo?" would just make one laugh hard no matter what mood one is in. That was the power of legendary Crazy Mohan's dialogue writing. He had it in him for a very long time, he knew it – he would become a legend. He knew it that he had the power in him to make a rock guffaw. The dialogue delivery was so impeccable that these dialogues became a part of our lives. As we try to even accept the fact that the man who made the world laugh is no more to crack us up. Here are some of our favourite movies with dialogues those were plain fireworks:
1. Michael Madhana Kama Rajan
A cult film so memorable that almost every dialogue stays strong at heart. Dialogues like 'Ellarukkum Vazhi Vaasal dhaan', 'Bheem Boy Bheem boy andhe locker le irukara aaru latchatha andha avinaashi moonjila vitteri' is simple yet so funny that no one could have even come up with something so simple yet witty.
2. Magalir Mattum (1994)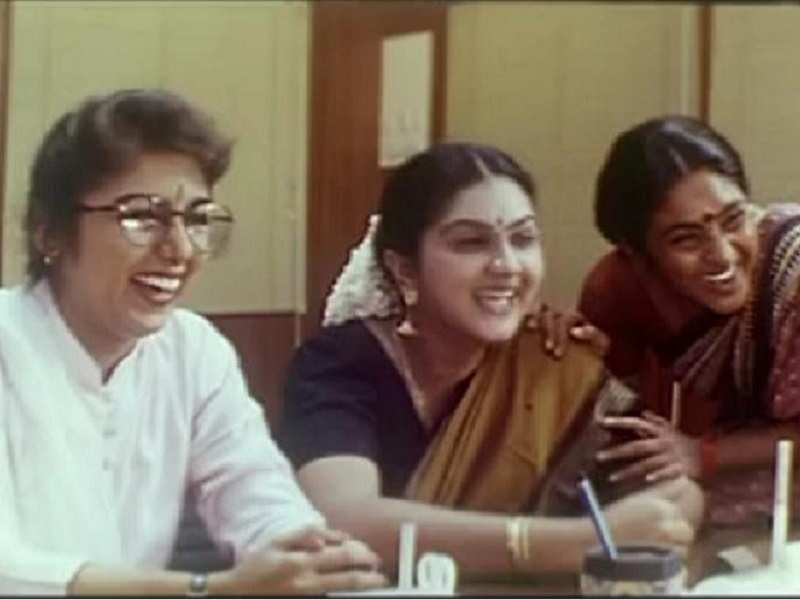 A women-centric film with a strong storyline was not the only two reasons why this was a cult film. It was the brilliant dialogue that made this film so strong and empowering, it continues to remain unbeatable.
3. Sathi Leelavathi
'Ambalaingaluku chanco choico kuduka koodadhu, renduthayum eduthupaanunga keragampudichavanga' – I mean look at that progressive one-liner no one could have even thought of back then.
4. Avvai Shamnmugi
This movie was a blockbuster hit but these needs to be recognised worldwide. Apart from Kamal Haasan's unforgettable transformation and Gemini Ganeshan's quirk, the film's dialogue was so well-written, the spontaneity, the racy counters and the delivery all fell into one good place.
5. Kaathala Kaathala
Yet another cult classic with humors shooting like fireworks. P.S. remember "Rosemary?" 😉
6. Thenali
Language was no barrier for this witty dialogue writer here. He knew that one-liners and concept humor is always a win!
7. Panchathanthiram
Do you really want us to pick a favourite dialogue in this one? Because we cannot. Every dialogue's timing is so perfect and unbeatable that we really wish our "brother was co Barathar".
8. Pammal K. Sammandham
Be it Kamal's witty dialogues like "Trolly forward" or Simran's subtle comedy dialogue delivery only someone as powerful as Crazy Mohan could bring something so humorous and tasteful.
9. Vasool Raja MBBS
"Margabadhu modhal sandhu, Kavidha maari vardhu la?" 🙂
But, most of all thank you Kamal for aptly bringing out Mohan's wit onscreen. This combo will be etched in our hearts forever!
We are going to stop with this and cry as much as we can to accept the fact that he is no more.