Cast: Jiiva, Jai, Srikanth, Malvika Sharma, Amritha Aiyer, Dhivyadharshini, Samyutkha Shanmugham, Aishwarya Dutta, Raiza Wilson, Yogi Babu
Director: Sundar C
Sundar C has been setting a trend for a while now by making a style of comedy-drama film. While some of these have worked, many of them have been misfires. His latest, Coffee With Kadhal starts with an interesting premise. The cast also seems to be very promising. Unfortunately, the movie ends up falling flat. 
The movie revolves around four siblings, Varshini (DD), Saravanan (Jiiva), Kathir (Jai), and Ravi (Srikanth). The problem ensues when Saravanan and Kathir get engaged to women they don't love. Ravi and Varshini, who are already married, find their own set of marital issues to sort out. How they overcome the conflict as a family forms the rest of the story. 
The movie begins with a lot of comedy. Set in Ooty, the sets and houses are sights to behold. Initially, the family and their bonding look promising. However, poor writing and chaotic screenplay mess up our movie-watching experience. The story is something that holds promise. But after a while, it looks like Sundar C didn't know how to end the film and has therefore dragged it. Towards the end, the movie becomes so draggy that we just want them to spell out the obvious. 
Being a rom-com, Sundar C has not failed to stick to the cliches. For example, Kathir and Abhi are childhood friends, and Abhi loves him. However, he fails to understand her love for him and goes behind another girl. Then realising her worth, he takes all efforts to woo her back. This formula has been tested time and again, and it has indeed become tedious. Some scenes also feel over-exaggerated. But, those scenes only keep reminding you that this is a Sundar C film and it is natural for it to be exaggerated. 
Coming to performances, we will be disappointed given that the movie beholds quite the star cast. Out of the three heroes, Jiiva's performance was quite refreshing. Jai and Srikanth have done better films for sure. But, their performance was as good as required. Malvika Sharma has given us a good Tamil debut. Her lip-sync however could have been definitely better. 
On the other hand, Amritha Aiyer shone in the film and her scenes were a breath of fresh air. Samyuktha Shanmugham and Raiza Wilson do quite their part in the little time they come. Dhivyadharshini was her real self in the film, nothing more, nothing less. Yogi Babu and Redin Kingsley's comedy feels forced in many scenes. Their roles seem to have been fit in just to bring in a comedy track.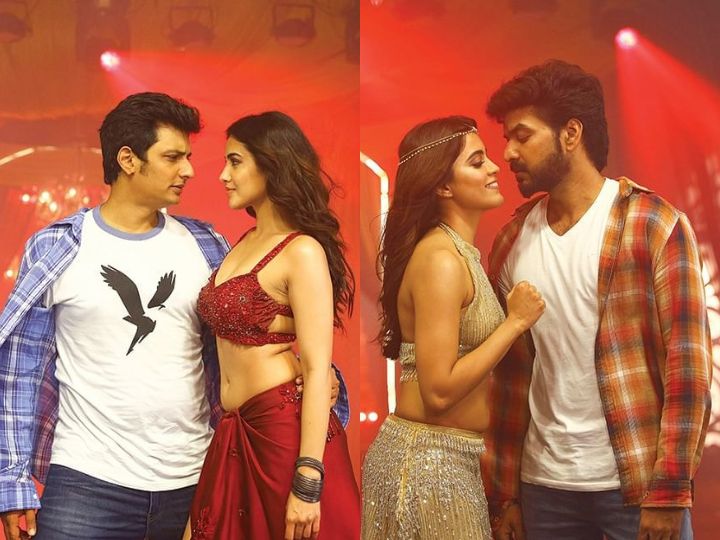 The movie is also not that sound technically. Yuvan's songs were engaging, but none of them will manage to excite you. The background score seems to be lazy work, and even the cinematography is not really worth a mention. Most of all, the editing could have been much better. The super-draggy climax could have been trimmed making the film way more enjoyable. 
The movie does entertain you because, end of the day, it is a family drama with comedy. However, for an old-timer like Sundar C, the audience definitely deserve better than the outcome that is Coffee With Kadhal. If only the one-liner of the film was more thought-off, the movie could have been way more entertaining and actually humorous. At the moment, it stands as a movie you can watch with family on a day you are bored out of your wits. 
Rating: 2/5 
Verdict: Watch it only if you don't get tickets to the other two movies this weekend!