By Jayabhuvaneshwari B
It was two years ago when the entire Kollywood industry went into shock and mourned the death of veteran Tamil playwright and actor Crazy Mohan. It was sudden and unexpected, and a huge loss to the Tamil film industry. Crazy Mohan was Kollywood's very own Charlie Chaplin and his sense of humor made the lives of millions happier. More than an actor, he was a humorist who wrote plays and scripts or dialogues for movies. All of these movies can be watched on repeat a thousand times and it will still make you laugh, even though you already know the joke. That's the power of Crazy Mohan's scripts. All of these movies are masterpieces and lighten up a sad or tiring day. Celebrating Crazy Mohan, here are 10 movies that were written by him that simply cannot be replaced by any other movie. 
Apoorva Sagodharargal was the first movie where Kamal Haasan and Crazy Mohan worked together. The film being a comedy-drama movie, has its fair share of comedy and sentiment. While the movie recognised for Kamal's role as Appu, a dwarf, the movie became a success because of all the comedy scenes, which gave the viewers a comical relief while watching a movie that was mainly based on revenge. Mistaken identity is Crazy Mohan's forte and this is just his first movie with that concept. He smartly used Janagaraj and RS Shivaji to bring in identity confusion, with the latter playing the role of Sambandham, an admiring assistant who goes "Saar, Neenga engeyo poiteenga Saar!" at his boss at every turn. While this movie is not entirely of a comedy-genre, it felt like one because of Crazy Mohan's dialogues. 
Micheal Madana Kama Rajan:
As mentioned earlier, mistaken identity is Crazy Mohan's forte and with Michael Madana Kama Rajan, it's more and merrier. Kamal and Mohan came together the very next year for this movie, with not 2 but 4 roles, all played by Kamal Haasan. Off the lot, Kamal's Kameshwaran, the naive Palakkad chef and his love interest Thirupurasundari played by Urvashi is the main track that sends the audience on a laughter riot. While it would have been challenging enough for Kamal to wear four different character sleeves, Mohan made it all the more worthwhile with different personalities and way of rendering dialogues for each and every character. Till date, one can never forget the punnery and the wise use of words like in the dialogue "Gramam-um kukk, neengalum cook!" Ofcourse, the words 'Beem Boy Beem Boy' and the entire rendition and body language of Kamal's Kamesh, will stay in your mind rent free for eternity. 
The story of this movie seems to be a very serious one at first, as it talks about cheating on one's spouse. But, 10 minutes into the movie and you already know that you're going to be out of breath from laughing. Sathi Leelavathi, yet another Kamal and Mohan combo is proof that even a very serious issue like infidelity can be dealt with in a very light manner. The story is about Leelavathi who tries to regain her husband's love for her. Sakthi, played by Kamal, is Arun's friend and the first to know that he is cheating on his wife with another woman. How Arun tries to teach his friend the right thing and how he helps Leelavathi reunite with her husband forms the rest of the story. Kovai Sarala plays the role of Kamal's wife and the jokes and puns in their dialogues are uncountable. Kamal talks in 'Kongu' or Coimbatore accent of Tamil along with Kovai Sarala and the dialogues were also written to suit their characters. One memorable dialogue which shows Crazy Mohan's writing brilliance is: "Brakeku pudikaladi!" Sakthivel tells his crying wife and she replies, "Ennaye pudikala, ini brake pudikaatti enna!" 
It is a well known fact that Avvai Shanmughi was majorly inspired from the English movie Mrs. Doubtfire. But, without Mohan's writing, a story like that would have never sold in Tamil Nadu. When this movie was released, the audience could not fathom the concept of this movie and the humour that it came with. The movie is very sentimental as it speaks of the separation of a father and his daughter. However, the lengths that father travels to and the risks he takes is the entire story itself. The dialogues, not only for Kamal but for every supporting character including Nagesh, Gemini Ganesan, Manivannan and Delhi Ganesh were just brilliantly written. Again, this is a movie with 2 identities for Kamal and a lot of characters confusing themselves with these identities, giving it a lot more scope for comedy. The scene where Kamal has to convince Mudaliar that Shanmughi is indeed bathing in the bathroom and Pandian is out there with them is literally etched in our hearts.
While the above movies we saw were a Kamal-Mohan team work, this is the first Rajinikanth movie for which Crazy Mohan was the writer. This again is a movie about family sentiment and money, but Mohan still managed to fit comedy into it. He paired Rajini with the best, Janagaraj and Senthil. In scenes where Vedhavalli first meets Arunachalam or where Arunachalam transforms from Rags to Riches, the comic timing of Senthil and Janagaraj along with Rajinikanth himself is just too good. However, this movie is not only about Crazy Mohan's comedy writing, but dialogue writing in general as well. Till date, the dialogue, "Aandavan Solran, Arunachalam Seiran" echoes in our ears whenever we think about the movie.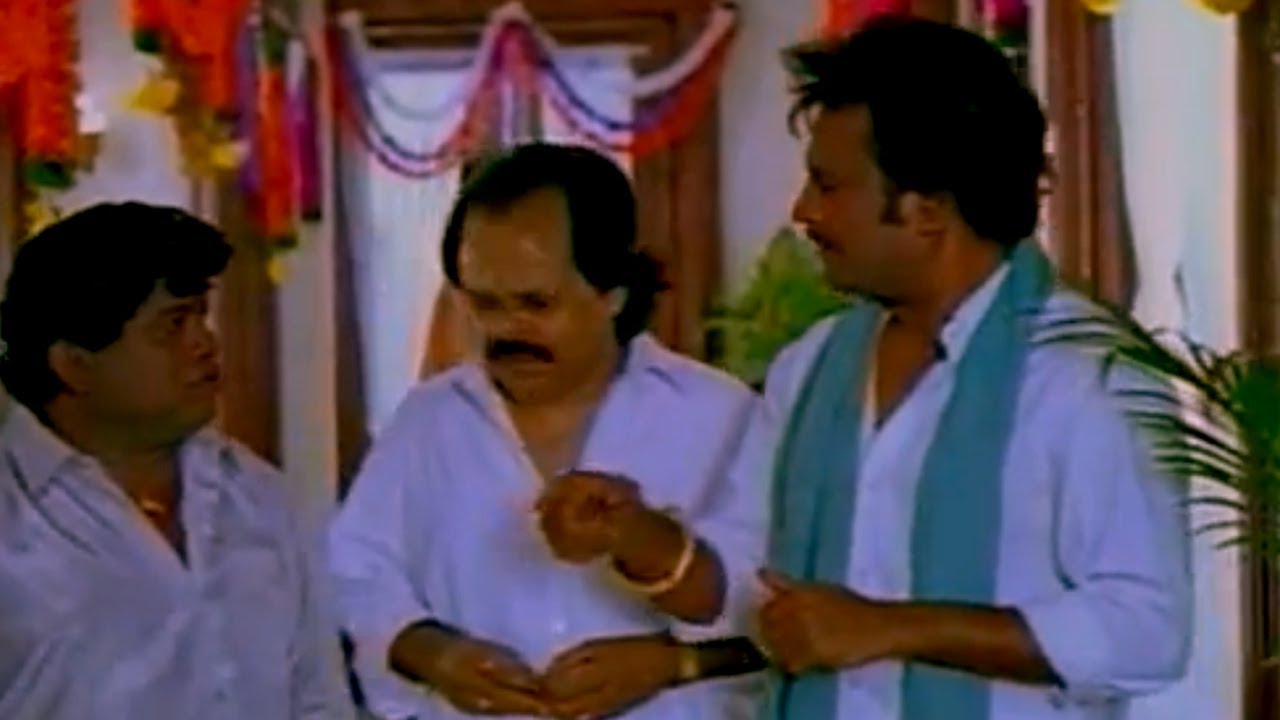 After Michael Madana Kama Rajan, Kaathala Kaathala is one solid movie with the case of mistaken identity and confusion surrounding that. While in the past, movies with mistaken identities had 2 or more people who looked similar, this movie had 2 people with the same last name but completely different faces. With first their lovers getting confused and then their parents, this movie is a rollercoaster ride which makes you keep waiting for the part where the identities are corrected and not mistaken. The jokes and the roles played by MS Vishwanathan, Vadivelu, Kovai Sarala and Haneefa are more than worth your time. While the storyline is a simple one-liner, the way the movie is taken makes you want to watch it again and again. The famous dialogue of Vadivelu who is a doubting Thomas where he goes "Enakku oru santhegam" brings a smile to your face every single time. 
Thenali is a movie that was surprisingly different with the way it handled the problem of Phobia. That too, not of one kind, but all kinds of phobia. Kamal saying "Elaam Baya mayam" in the Srilankan Tamil accent is one of the most cherishable dialogues from the movie. The character arc of Kamal, where he doesn't try to be funny, but his naivety and innocence makes him funny, is very well written. This movie also has a lot of comedy involving actions over dialogues, like the bus scene where a rat gets into Kamal's basket. Starting from naming Kamal's character as Thenali Soman rather than the famous Thenali Raman, every single aspect of the movie is made to give you a good laugh. Ramesh Khanna's "Thenali Thakkali" confusion, where he never tends to remember his name, is just too funny and memorable. 
Out of this entire list, this is one of the masterpieces of the Kamal-Mohan duo. This is a movie that is filled with an unlimited amount of wordplay and punnery. Be it the scene where the cops question the gang when they're trying to get rid of the body asking, "Munnadi Pinnadi enna irundhudhu?" or the scene where Reddy Garu goes, "Chinna kallu bedha labham." it doesn't fail to surprise you and make you go for a good laugh at the same time. The ensemble cast were given unique yet funny character arcs and the way they portrayed their respective characters was what made the movie a success. This is one of those movies where you never stop laughing, and any list containing top comedy Tamil movies will be incomplete without this movie in it. The genius of Mohan is seen through the character played by Devayani. While she hardly has a screen-time of 5 minutes, she is the primary troublemaker for Ram and Mythili. Her dialogues are very well thought of and placed at the perfect timing to get a laugh out of the audience. While we know Ram's life is getting ruined, we still can't control the smile in the corner of our lips. That's the magic of Crazy Mohan. Dialogues like "Enakku oru Kadha sollu Ram" or "En maathra, naan dhaan Salt and Pepper oda saapten" are some that can make you laugh at any point, just with their recollection. 
This is a simple story where 2 unlikely people fall in love, but only in the very end. The whole movie revolves around bringing them together. With Kamal playing the role of a stuntman and Simran, a doctor, who is not very fond of him, you initially think how the movie could be funny. But, in reality, the way fate brings them together, with their friends going through a divorce or Simran stitching a watch inside Kamal's stomach are unfathomably hilarious. The comedy track with Simran and her nurse Kalpana trying to inject an anesthetic into Sambandam to get the watch out of his stomach is just a very nicely timed comedy that surely makes you laugh. Till date, "ENT doctor" and "Don't put word in my mouths" are dialogues that you use as references for a good laugh with your friends. 
This movie happens to be one with a good amount of laughter and sentiment, till the very end. Raja's character is written in such a beautiful way that even though he is a rowdy, who threatens people for money, you can't help but fall in love with him. The dialogues written for 3 primary characters, Kamal, Prakash Raj and Prabhu come at times that are not expected at all but still manages to bring that laughter from inside. Crazy Mohan also plays an important role in the movie as Dr. Margabandhu who is initially a victim of Kamal, but eventually realises his nature when he saves his father's life. The scenes revolving around the two with phrases like "Margabandhu Mudhal sandhu… Kavithai Mari illa?" or "Manam irundhal Margabandhu" are really good wordplay, which can only be found in Mohan's scripts. Even today "What is the procedure to change the room?" stands out as an amazing phrase. 
Crazy Mohan is a legend and with his movies he has left behind a legacy that nobody else can bear on their shoulders. Another speciality about Mohan is, just like Marvel Comic Writer Stan Lee who makes a cameo appearance in all the marvel movies, Mohan also makes at least a cameo appearance with a small comedy scene, in every single movie that he has written. Crazy Mohan also redefined comedy plays in the theatre world. His absence is and will always be missed in the Tamil film industry.