'Women-centric movies' have become a trend these days where many films are promoted as  women-centric even when there is just a tad-bit amount of importance given to one or more women characters in the film. In reality, such movies tend to slant towards extreme patriarchy, and might probably have just one scene speaking about women empowerment or freedom. In Tamil Cinema two such films were released with big stars. One is Vijay's Bigil, starring Nayanthara as the female lead. Another is Ajith's Nerkonda Paarvai, starring Shraddha Srinath, a remake of the movie Pink.
As we all know, both these films were promoted as women-centric. Bigil supposedly revolves around women's Football, meant to be something like Chak De India. Nerkonda Paarvai on the other hand deals with sexual abuse which is a very sensitive topic. Both films have a heavy female cast, including Indhuja Ravichander, Varsha Bollama, Reba Monica John and Amritha Aiyer in Bigil, and Abhirami Venkatachalam, Vidya Balan, and Andrea Tariang in Nerkonda Paarvai. All these factors make us believe that these films are truly women-centric. But, that is where we are mistaken.
What should a good women-centric film consist of?
There are many tests like the Sexy Lamp, Bechdel and Fitmus tests to analyze and understand the importance given to female characters. While those are detailed ways to know if a film is women-centric, there are other factors that we can generally study to categorize the film. The first factor is that a women-centric film should revolve around one woman character and her life or decisions. It can be more than one woman character as well. Next, the character should be able to fight her own battles, and solve her own mysteries, without submitting herself to a superior male. Lastly, there should be some depth in the storyline, and not just some wrong ideas of Feminism portrayed onscreen. This way, we can call movies like Magalir Mattum (1994), Snegithiye and Aramm as real women-centric films.
Do Bigil and Nerkonda Paarvai fit into this category?
Let us analyze one film at a time. At the outset, Bigil with its 'Singapenne' seems like the biggest women-centric film of the decade. But, that's where we're all mistaken. Yes, there are strong women characters with various struggles, trying to win a match and prove themselves. Yes, their coach is injured so they need someone to pull them together. But, all this just glorifies the 'Heroic' nature of Vijay's Bigil or Micheal Rayappan. If this movie was not promoted as a women-centric one, then maybe the film could be accepted for what it was. But, time and again, the director and  producers reiterated that part. We need to understand that the entire film is the story of Bigil and how Bigil is a knight in shining armor who comes to save these girls who are a mess without a leader. Worst of all, this so-called women centric film, has Nayanthara in a lead role, with absolutely no character arc, other than romancing Vijay and tagging along with him wherever he goes.  In addition, there are dialogues like 'Gundamma' that was supposed to be considered the best part of the film, but is a direct insult to women. So no, Atlee's Bigil is not a women centric movie.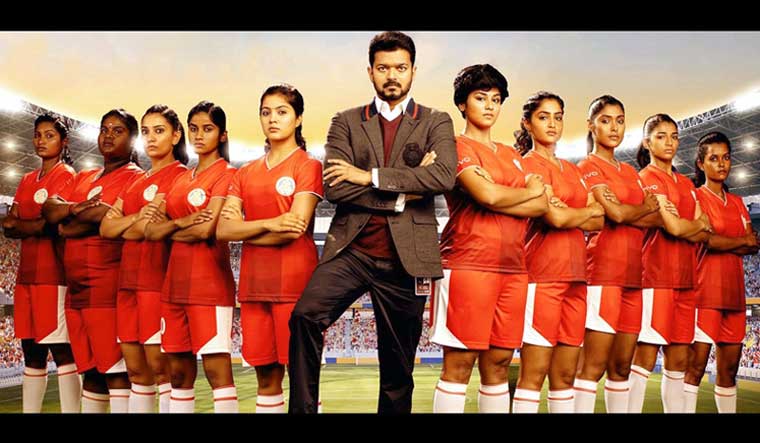 Coming to Nerkonda Paarvai, there should be nothing to go wrong in a remake of a movie which dealt with a very important subject in the perfect way. But, there were some problems with the remake. In Pink, Amitabh Bachchan will only be an ally to the girls in their struggle to prove themselves innocent. Nerkonda Paarvai however tries to portray Ajith as the saviour of the girls. He shows his heroism and savior instincts in many places in the film that would have been avoided by Amitabh Bachchan in the original. If the movie was remade exactly the way it was, it could have remained the real women-centric movie that it was in Hindi. Yes, with Ajith in the film fans need some action to accept and enjoy the actor. But, H Vinoth's attempt to make it more acceptable for the Tamil film industry is what ruined the women-centric part of the film. The second remake, Vakeel Saab was even worse, because Pavan Kalyan was the frontrunner of the entire film.
These are films that run on the idea of a patriarchal male, who is 'modern-thinking' and a feminist. However, women centric films should be and revolve around women. Not about how men are feminists, or how they save women. Recently movies like Virata Parvam and Gargi, both starring Sai Pallavi, need special appreciation, as they were women-centric, but not promoted as one.