Cast: Aishwarya Lekshmi, Naveen Chandra, Bobby Simha, Sathya Krishna
Director: Charukesh Sekar
There were many reports after the COVID-19 lockdown in India which suggested that cases of Domestic Violence against women have increased in the country. It looks like the film fraternity has taken it as their duty to create awareness against domestic abuse. Ammu is the second film this year that deals with this subject, making Alia Bhatt's Darlings the first. Charukesh Sekar has done his best to convey a message against domestic violence. However, he could have surely done it more convincingly. 
Ammu revolves around the protagonist Amudha (Aishwarya Lekshmi), who gets married to her neighbour Ravi (Naveen Chandra), an Inspector. The two initially have a happy married life. However, Ravi's violent and male chauvinistic side eventually comes out, and Ammu is caught in a toxic relationship as a domestic abuse victim. How she manages to free herself, forms the rest of the story. 
The starting shows a romantic love story between Ammu and Ravi. Although they united through an arranged marriage, they look like they really love each other. Ravi's chauvinistic ideas only come out in one scenario, when he asks Ammu the need for her to work. So, it becomes difficult to believe Ravi's change of face when Ammu just forgets to bring him lunch one day. There is no conviction in establishing that the husband really has a dark side. It therefore, becomes a little superficial to watch onscreen.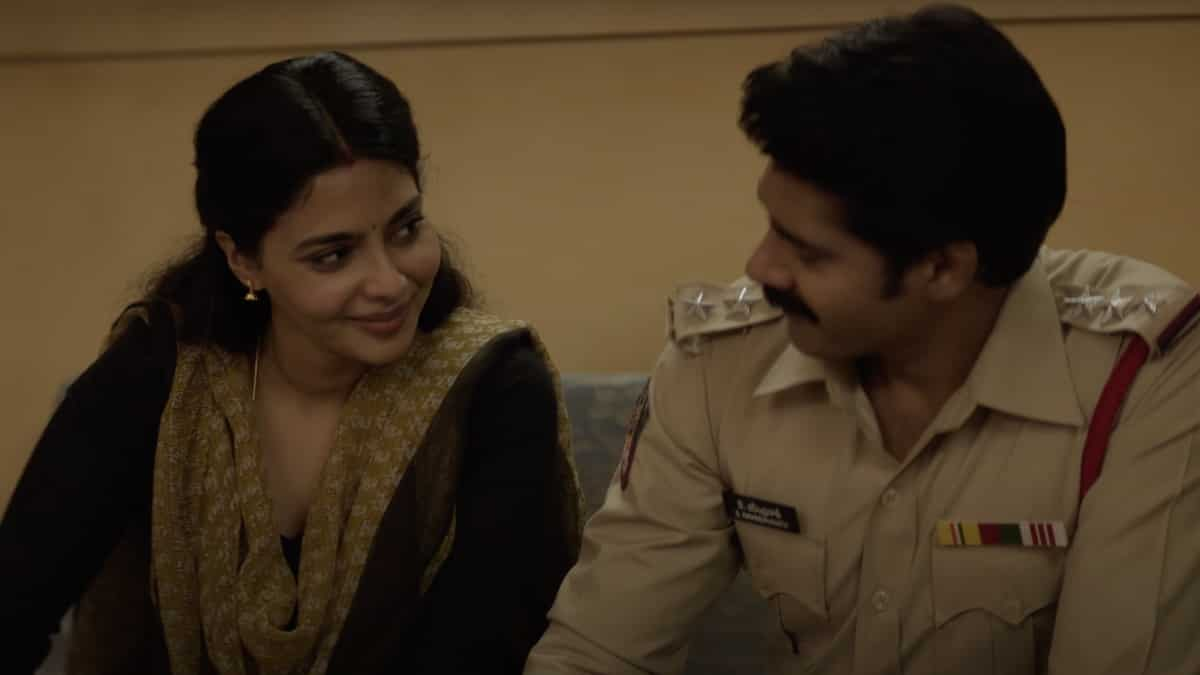 Another problem is the solution that Ammu looks out for to get out of the marriage. Her mother, in the very beginning itself, tells her that it's her choice to walk out of the marriage if she wishes to. However, she neither calls her parents for help nor records evidence against Ravi to teach him a lesson. Instead, she takes the help of another 'man' to bring her out of the situation. The solution seems far-fetched considering that she has several other outright solutions. 
While the writing could have been much better, Aishwarya Lekshmi's performance as a domestic violence survivor is why the movie is a must-watch. In a scene, Aishwarya applies makeup to her wounds looking straight into the camera. There, you completely dive deep into the world of Ammu, and her problems start affecting you too. Aishwarya Lekshmi's poignant expressions and loud wails make you believe in the character 'Ammu' and her story.  Naveen Chandra and Bobby Simha are also brilliant in the film with their respective performances. However, as mentioned, Aishwarya's headlining performance takes away the efforts of the others. 
Some opening shots have beautifully portrayed the essence of the film. While the credits keep appearing onscreen, we see a flickering light, and origami birds used as wall hangings. Later on in the film, when we see the way Ammu suffers, we get reminded of the flickering lights that struggle to keep shining against heavy winds. The birds also seem to signify flying free, just as how Ammu frees herself in the end. 
On the whole, Ammu is a good watch, given its message. It is important for people to know that domestic violence can exist in any household, even among educated people. Here, Ravi is literally a Police Inspector, who protects the public, but he's a criminal himself. It also reminds domestic violence survivors that it is important to step out of a toxic marriage at the right time. The message is more for the victims than the perpetrators. Ammu can be watched on a weekend night with family, more so for Aishwarya Lekshmi's bright performance. 
Rating: 2.75/5
Verdict: Watch Ammu in order to know the reality of many marriages today!