Women in India are constantly proving that they're no less than men and showing equal potential and caliber in every field. Women are equally represented in all kinds of professions, even fields that are still considered apt only for men even today. In such a world, women are also equal stakeholders in the film fraternity where they're not only actors or singers but are also directors, technicians, camerapersons, etc. In such a manner, there are quite a few successful women directors in the Tamil film industry. However, for some unknown reason, some of these directors' films are not well known and are underrated till date. So, here are 6 underrated Tamil films directed by women!
Aarohanam – Lakshmy Ramakrishnan:
Directed by Lakshmy Ramakrishnan, Aarohanam stars Viji Chandrasekhar as Nirmala who suffers from Bipolar Disorder and goes missing for hours together. The movie is set in a poor household and what the family does to find Nirmala forms the crux of the story. The movie, which was released back in 2012, was one of the best ones of the year as it very neatly handled the concept of Bipolar disorder. Many critics felt that the movie dealt with the particular mental illness in the best way possible, without making it too preachy. The movie however, is underrated till date and not watched by many.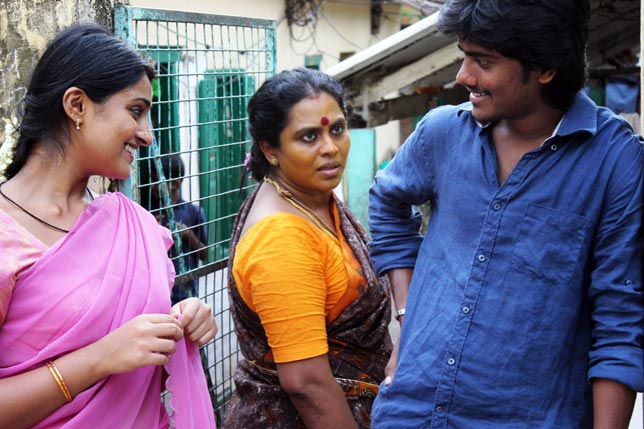 Apart from Aarohanam, Lakshmy, who started her career as an actress, has directed 3 other films, namely, Nerungi Vaa Muthamidathe, Ammani and House Owner. She is known for her performance in Yuddham Sei, where she tonsured her head for a 'once-in-a-lifetime' role. 

Kanda Naal Mudhal – V Priya
Kanda Naal Mudhal is a romantic-comedy film starring Prasanna and Laila in lead roles. DIrected by V Priya, the movie is a fun take on how two people who lock horns at all times, end up coming together. The performances in the movie are also pretty great with Laila, Prasanna and Karthik Kumar perfectly playing their respective character arcs. This movie however, is not known to many. Like many other rom-coms in Kollywood, Kanda Naal Mudal also did a great job, except it was recognised for its efforts. 
V Priya has also directed other movies, Kannamoochi Yenada in Tamil and Aadi Lakshmi Puraana in Kannada. She is also the director of a Docudrama called Herova? Zerova? In Tamil. She worked as the writer in Revathi's Mitr, My Friend. She worked as an assistant to Mani Ratnam before entering the field as a director herself. 
Malini 22 Palayamkottai – Sripriya:
Directed by Sripriya, Malini 22 Palayamkottai is the Tamil remake of 22 Female Kottayam, a Malayalam movie directed by Aashiq Abu. The movie starring Nithya Menen is a thriller drama that revolves around sensitive topics like rape. The movie has a very serious note to it and conveys a very much needed message. The performances of Nithya Menen and Prakash are just brilliant and really help in selling the story. The movie was remade because of its concept and message but was not watched by many, maybe because the original was already watched widely. Undoubtedly, Sripriya did a great job with Malini 22 Palayamkottai and the movie is underrated for its performances and direction. 
Sripriya is a popular actor who has performed in Tamil, Kannada, Telugu and Malayalam, in over 200 films. Apart from Malini 22 Palayamkottai, she has also directed movies like Shanthi Muhoortham, Enga Ooru Aattakaran, Nagini (Kannada), Naane Varuven and Drushyam (Telugu). In addition, she is also a voice over artist and has also directed a few television shows. 
Directed by Madhumitha, K.D. tells the story of an old man who overhears his family's plan to euthanize him. The movie then moves onto how he escapes from his house and meets Kutty who changes his life. The movie is magical because it deals with life's desires and wishes that every person has but doesn't explore. It also shows a beautiful relationship and bond between KD and Kutty who are nowhere similar. This movie spoke about Euthanasia, a widely practiced procedure. The Jury's still out about whether the practice is ethical or unethical. The movie is still unknown to many but has won numerous awards, many of them international. K.D. is a must-watch movie that many are not even aware of. 
Madhumitha has directed movies like Vallamai Tharayo, Kola Kolaya Mundhirika and Moone Moonu Varthai, before K.D. She briefly worked with the Pirates Of The Caribbean team in her early days and has also directed many short films. Other films of her's are also not very well known but are quite appreciated. 

Vanakkam Chennai – Kiruthiga Udhayanidhi:
Starring Shiva and Priya Anand in lead roles, Vanakkam Chennai is a romantic comedy written and directed by Kiruthiga Udhayanidhi. The movie revolves around Ajay and Anjali being rented the same house by Narayanan and how they deal with their differences and live under the one roof. The movie is quite comical and makes you laugh at the right intervals. Again, it is a fun rom-com that can be enjoyed and watched with family. This is yet another movie that did not receive the expected attention and traction. 
Apart from Vanakkam Chennai, Kiruthiga also directed Kaali starring Vijay Anthony. She has also directed a music video called 'Sadhayai Meeri' which portrays the pains of Transgenders. She is also the editor of a literary magazine called Inbox 1305. 
Sillu Karupatti – Halitha Shameem
Starring an ensemble cast including Samuthirakani, Sunainaa, Manikandan K, Nivedhithaa Sathish, Leela Samson and Sara Arjun, Sillu Karupati is an anthology film written and directed by Halitha Shameem. With 4 short stories that revolve around love, Sillu Karupati deals with young love, old love and even marriage. Sillu Karupatti is one such film that gives the audience a feeling of warmth after they are done watching it. Initially, the movie's release was not even known by many and later attained commercial success only after it was released on Netflix. The movie received a lot of love and appreciation from movie buffs and film lovers. The movie is one that provides warmth and is super underrated because it surely was not celebrated as much as it deserves to be. 
Halitha Shameem worked as an assistant director under the duo Pushkar-Gayathri and Mysskin, before entering the directorial world. She directed Poovarasam Peepee before Sillu Karupati and Aelay, after. She has also won awards for her directorials.