Superstar Rajinikanth received Padma Vibhushan for his enormous contribution to Indian Cinema. We take you through his film journey and relive the 'Rajinism' in his movies that made him the Superstar that he is now. 
MOONDRU MUDICHU- 1976
Rajini essayed negative roles in the beginning of career and this movie is the first that comes to our mind when we think of Rajini as a villain. Who can forget the expression on his face after he fails to save Kamal Hassan from drowning and continues to row the boat in the song 'Vasantha Kala Nadigallile.' His guru, director K. Balachander made him an over night sensation with this film.
MULLUM MALARUM- 1978
This was a breakthrough for Rajinikanth, as for the first time he played the main character in a film.  He even gained a major female fan following after this movie and also bagged the Special Prize for Tamil Nadu State Film Awards. This film is considered to be one of his best as a performer.
AARILIRUNTHU ARUBATHU VARAI- 1979
This must be one of the saddest films Rajinikanth ever made. This is a tragic story of a man who toils hard to provide for his younger siblings. The brothers and a sister go on to lead comfortable lives while he is left alone and poor with no one to care for. This movie was also a turning point in his career as it made so many people tear up seeing his performance.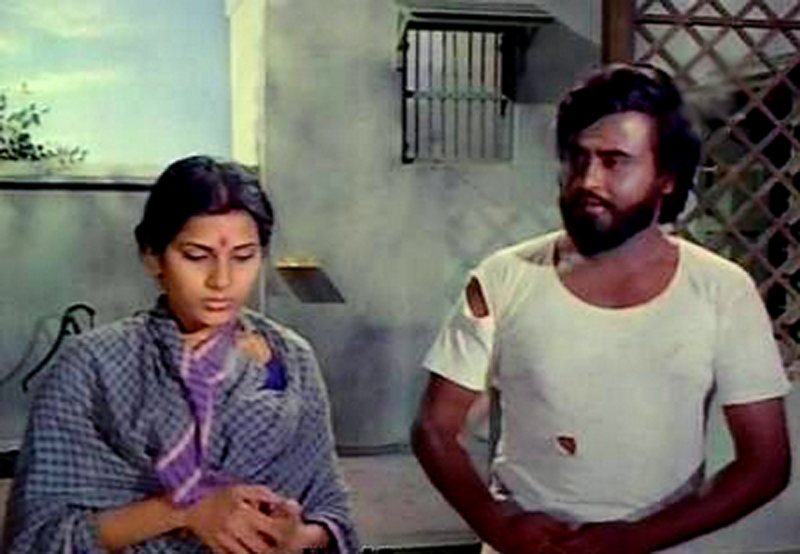 MURATTU KALAI- 1980
The different get up and the role that Rajini played in this movie is still etched in our minds. This movie if played today in theaters would make us go, 'Thalaivaaaa' in excitement! This was the beginning of the mandatory title song for a Rajini movie. The action sequences from the movie were one of the best of those times and is considered a landmark in Tamil cinema. The famous dialogue from the film, 'Seeviduven' has come into colloquial language over the years.
THILLU MULLU- 1981
The film was a laugh riot with the most interesting plot for situation comedy. The film was a immediate success as Rajini portrayed a role very different from the movies he did till that point. He tried his hand at comedy and it worked brilliantly. His scenes with Thengai Srinivasan were too good and music by M.S.V added flavor to the movie.
THALAPATHI- 1991
A favorite among many, this movie was a instant hit! The film directed by Mani Ratnam (his first and only collaboration with Rajini so far) followed the life of a orphan who is brought by a slum community, grows to become a rowdy who fights for his friend, played by Mohanlal. The film had everything that ensured success, a great story, cast, powerful dialogues and oh the music!  Who can forget the brilliant tunes composed by Ilayaraja? We still tap our legs the way Rajini did in 'Rakkamma' song.
ANNAMALAI- 1992
We saw Rajini as a Superstar from these kind of movies. The story was also about friendship but was much more than that. How an underdog rises to success with sheer determination. The movie gave life goals for many and was a roaring success! There are still memes and jokes of the famous one word dialogue, 'ASHHOOOKKKK!!!!' and the epic monologue that Rajini followed it with!
BAASHA- 1995
This epic movie sums the commercial hits that Rajini gave us during the 90's and held his title as the 'Superstar.' Who can forget the amazing BGM from this movie that still rings in our ears when we think of this film! 'Baasha… Baasha… Baasha…' See what we are talking about? This was a typical Rajini movie with all the necessary 'Rajini elements' in it and needless to say, the film was a super duper hit!
MUTHU- 1995
One of the most entertaining movies of Rajinikanth, this film too was a huge blockbuster becoming the highest grossing Tamil film of that time. The comedy track, dance sequences and the Rahman's music added to the success! Who can forget the scene where Rajini gets lost in Kerala and gets beaten up for asking, 'Eruki anachu oru umma tharum' to a local girl. This K.S. Ravikumar film has a lot of what we call the 'Rajinism' and became famous for the same.
PADAYAPPA- 1999
This movie is a trademark Rajini movie in every way. Another K.S. Ravikumar movie, this movie had someone who would finally match Rajini and that was Ramya Krishnan. She would be the first actress to do so. The film was one of the first movies to set the box office records ringing overseas! We all will definitely remember the epic scene where Rajini pulls out a swing just by this shawl. What a mass! This is one of the first movies that come to our mind when we think about Rajinism.
ENTHIRAN- 2010
After several decades, in this movie, he reprised a negative role- when Chitti, the robot, turns evil and this set the fans to a frenzy! As people often point out, though Rajini is a great hero, he is even more great as a villain. This Shankar movie was years in making and Rajinikanth essayed a very different role from any of his movies. As a scientist and as a robot with emotions. This film too was a roaring success and we can't wait for Enthiran 2.0 which is currently under production.
Written By: Subashini Suresh