The second instalment of
Lust Stories
from Netflix once again has four shorts directed by prominent filmmakers from Bollywood – R Balki, Konkona Sen Sharma, Sujoy Ghosh and Amit Sharma. But barring Konkona's
The Mirror
that revolves around two women with their respective erotic secrets, the rest of the films are either dead on arrival like Balki's
Made For Each Other
where a
daadi
(Neena Gupta) keeps harping on sexual compatibility all of a sudden, or an exercise of the male gaze that indulges in popular pornographic fetishes (Ghosh's
Sex With the Ex
and Sharma's
Tilchatta
).
In The Mirror, an upper middle class woman (Tillotama Shome) walks into her house one afternoon and discovers her maid (Amruta Subhash) having sex with a man in the bedroom. At first, she is shocked but is unable to confront the maid who has worked for her for a number of years. Then, she discovers that this is an everyday occurrence and finds the act of watching to be pleasurable. The maid is unaware of this at the beginning, but finds out the truth one day.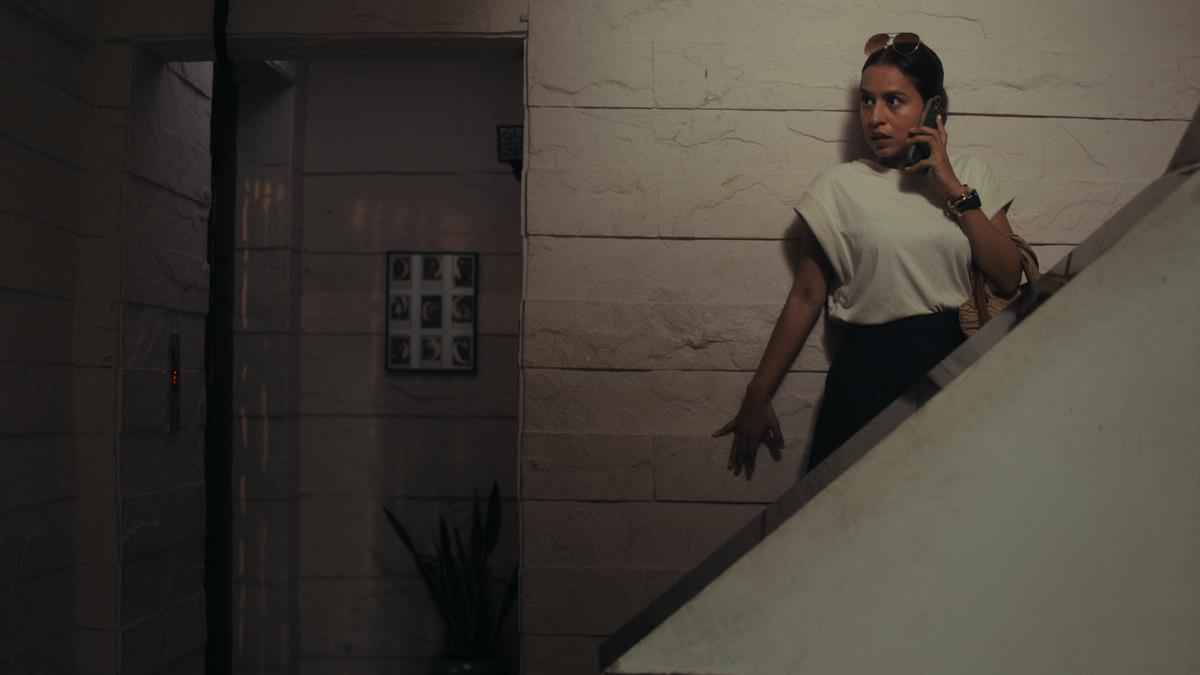 The premise is a slippery slope – the earlier Lust Stories too had a maid story, and the second instalment has two (Tilchatta is the other). In a country where many domestic workers experience sexual exploitation in their workplace, it is dangerous and insensitive to eroticize the unequal power dynamic and play up a popular fetish. There is also a possibility that such a narrative could add to the perception that people from the lower classes have "loose" morals and a lesser need to maintain their dignity. 
Tilchatta, which is also part of the same anthology, is certainly guilty of this, with the camera blatantly objectifying a young woman's body and forcing the audience to internalise the leery gaze of an upper caste rapist. But The Mirror is a lot more nuanced in what it wants to articulate, and Shome and Subhash are absolutely spectacular in their respective roles. Perhaps because it was written and directed by a woman, the two characters emerge as individuals rather than sexual objects. We don't just see their desires, we see what their lives are like, who is part of their social circle, what their circumstances are like, and so on. It is this context and placement within the ordinary that makes the lust in The Mirror human – and in doing so, strips the emotion of the shame that it is usually associated with. 
Contrast this with how Tamannaah is portrayed in Sex With the Ex – with the suggestive dialogues and the camera desperately focusing on her slipping saree to justify the title of the anthology. Or Made For Each Other which is so earnest to be 'woke' but ends up being totally unrealistic, and worse, desperately dull. That's what makes The Mirror the most erotic of this otherwise uninspired anthology. It's the only film that understands that lust can find a myriad of expressions and it doesn't begin and end at sexual intercourse. And that many a time, it is about the mind as much as it is about the body.  
Few mainstream films have succeeded in representing lust without moral judgement, and fewer still have managed to do it with a woman at its centre (Aiyaa, Gantumoote, Ohm Shanti Oshana, Super Deluxe are among the rare examples). In the Tamil, Telugu and Kannada film industries where narratives with hypermasculine heroes have become all the rage, desire is primarily portrayed as a male right over the female body. The treatment of Reena's (Srinidhi Shetty) character in the KGF films and the normalisation of this as "romance" is quite revealing of how filmmakers and the audience view love, romance and sexuality. 
When female desire is at all represented, the portrayal is seldom without apology. In Karthik Subbaraj's Iraivi (2016), for instance, a young widow is in a friends-with-benefits relationship but she's saddled with an emotional story to justify her desire. She's still devoted to her late husband and breaks up with her boyfriend "for his own good". This is still better than earlier films like Padayappa (1999) where a woman's lust is vilified to absurd levels. The audience, too, is so used to such storytelling, and even a flutter of unbridled female desire on screen becomes a raging discussion on social media – Aishwarya Lekshmi's 'sex is not a promise' line from Maayanadhi (2017) or Trisha's character reconnecting and spending a (platonic) night with her ex boyfriend in 96 (2018), for instance. 
On OTT, filmmakers have greater freedom to tell these stories, without the compulsion to play to the gallery. But there still seems to be great reluctance in the south to tell such stories, particularly anchored to a female perspective. Lust Stories became Pitta Kathalu (2021) meaning 'short stories' when it travelled to the Telugu industry and transformed to Paava Kadhaigal (2020), an anthology on honour killing, when it went to Tamil. The other anthology films to emerge from the south have also been largely disappointing in this respect, barring perhaps Margazhi from Modern Love Chennai (2023). 
If at all Lust Stories is eventually made in the south, with the theme intact and without any salad dressing, one would hope that filmmakers take inspiration from Konkona's willingness to view lust as a human emotion – and characterise women who experience it as ordinary people who don't exist solely for male fantasies.