This lockdown might have gotten the better out of us but we are still getting to spend time with our loved ones. But, there are mothers out there, fighting everyday so that we could stay secure, cleaning everyday, so that we could stay safe and working tirelessly everyday so that we could get cured. These mothers are doing these selflessly just like they would do it for their children. These three superwomen talk about how this Mother's Day is extra special to them. They talk about how they have supporting children who understand their frame of work and love them for all the fights they bravely put up.
Priya Ravichandran, Fire officer
It is a tough period with lots of uncertainties . At the field we have to ensure that the morale of the personnel does not go down and at the same time also ensure Their safety and the safety of their families too. It's like playing mother in the field too asking men if they follow the daily safety routine . Being fro toone workers it has not changed much coz we hardly stay home . It's the same routine for us . But the little time I get we spend times like playinges or watching movie. My kids for the first time are worried about mother and expressed concern which makes me v happy . They have been a really cooperating kids understanding that mother is a frontline worker and hence no complaints against me which by itself is a boon.
Dr. Sunitha, Doctor

I am working as head of the department of obstetrics & Gynecology department at SRM Medical college, kattankulathur. Because of this pandemic most of the near by hospitals are not fully functioning and ours is 24*7 open to give adequate services to pregnant women and also other gynecological emergencies. My responsibilities has increased now as we are getting more number of patients even treating COVID positive mother also. My son, 17yr old who is preparing for JEE & NEET doesn't like us ( husband also doctor) going to hospital daily. He is scared of our health. But after I explained about our responsibilities, he has now understood. He reminds us regarding hygiene once we are back at home. During his exam preparation time , I am not able to give him time and not able to prepare his favourite food also. He feels bad as all his friends mother are at home and they are enjoying this lockdown period. But now he is adjusted to this pandemic crisis and helping me in household work also. But whenever I am at home , I am trying to keep him happy by making his favourite food. At the end of the day we discuss corona related health issues and it's statistics. He is the first person to give all the news that's happening not only India but the whole world. As a frontline worker we have to balance both.
Meenakshi Vijayakumar, Fire officer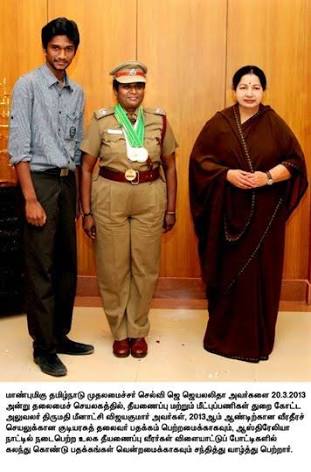 This Pandemic had brought families together. Many Frontline workers like myself are currently living alone and away from our families. But, they are filled in my heart especially my lovely son. I am constantly praying for his welfare and well-being. You do not have to always be with your children to prove how much you love and care for them. While I work for the safety and happiness of millions of families, God will willingly take care of my young man.