By Humsika J
'Aaytha Ezhuthu' belongs to the category of movies which weren't celebrated at the time of release but entered the list of classics over time. Directed by Mani Ratnam, this movie was made in association with some of the greatest artists and technicians of the early 2000s. While decoding the movie, one thing we observe is the colours : Red for Inba, Green for Michael and Blue for Arjun. Each of these characters had their own track running in the story, but these tracks are incomplete without the women in their lives. 
   1.Sasi
Inba is a character who believes that the world has wronged him. After being a victim for years, he transforms into a rebel who is hungry for power and all the things he was deprived of in life. He wants change, but the route he takes is that of a rogue. A firecracker enters his life in the form of Sasi. She loves her husband unconditionally and wants to be with him forever. When she senses the danger around him because of the work he indulges in, she tries stopping him. Quite similar to Caesar's wife when she stops him from attending the Senate. Sasi takes love and anger in equal measure but one thing she never gives up on is her self-respect. She doesn't stop herself from expressing her thoughts: good or bad. She smothers Inba with her love saying "Saiva mutham kudutha, othu poga maaten. Saahasatha kaatu, sethu poga maaten". She keeps him at check by showing what is right and what is wrong. The best thing about Sasi is that she never gives up, she catches a train and travels towards a better future hoping to be with Inba some day. She was a cheerleader, a well wisher, a mad lover, a doting wife and a bold woman.
   2.Geethanjali
The conflicts in life may be with society, within a family or within ourselves. While Michael fights to bring change on a macro level, Geetha does her part within the house. She breaks all barriers set by the world and does what she believes is right. Even though it was told in a jovial context, she says a powerful line " Why do women always blame other women when anything goes wrong?" She creates a beautiful bond with Michael's mother and sisters, a lot of fun and immense trust. Geetha is the force that stays by Michael no matter what, she takes huge decisions impulsively just so that it is right for Michael. The relationship between Michael and Geetha is between love and lust…between adolescence and adulthood. Geetha could be the 'woke' woman at times and the one who thinks 'what will the society say' at other times. Her presence in the movie adds a touch of humour and charm…even if it is just for a few minutes. On the whole, Geetha represents a confused millennial who does things but also finds it necessary to justify her stance everytime.
   3.Meera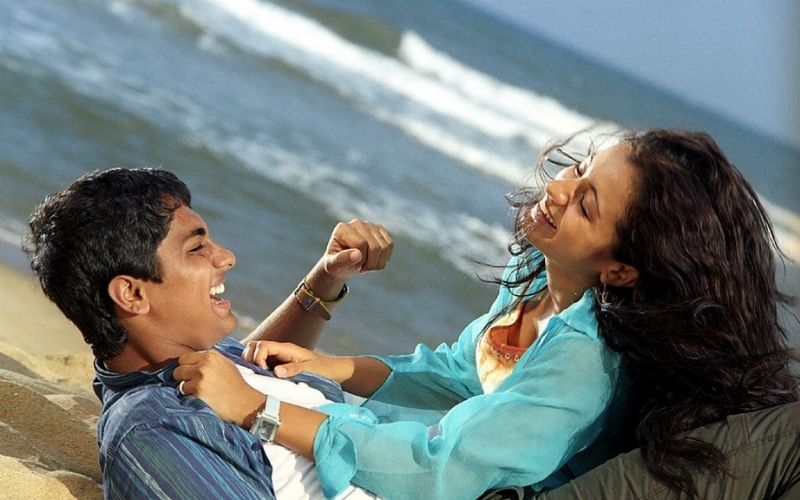 The new generation love, going out for a coffee, a beach date and then returning to reality : that's Meera and Arjun's story. Meera is so aware of herself and her future. She knows what is the reality of life and uses her experiences in Chennai as a form of escape : just like how you would walk into a theater, watch a movie for 3 hours, imagine yourself in the story, eat some popcorn and then walk out to face the reality of life. Her terms are clear when she begins dating Arjun and remains as strong as a rock till she gets hit by all the pent up emotions she had kept away till then. In a fast-paced world, all she wanted was some stability. Her idea of settling down in an arranged marriage with a lot of security was what she desired. That's probably what she didn't find in a dreamer like Arjun. Though she was attracted to him, she remained a realist and didn't let her emotions take over. It was only after she saw the genuinity and zeal to fight for a cause that she actually felt that Arjun was the one for her. Meera is the personification of a journey from the brain to the heart. 
At the crucial point of this story, all the characters hit a turning point in their relationship with the women in their lives. Inba broods over his broken-yet-not-broken marriage, Michael plans a future with his girlfriend and Arjun proposes to his lady love. The characters moved in the story and created new paths with every interaction with their ladies. 'Aaytha Ezhuthu' is beyond the colours and politics: it is an emotion which is given shades and hues, it is a treasure chest that gives more as we dig deeper.