Being a celebrity wife is not all about being glamour and popular. It also includes the risk of unwanted attention and scrutiny by the media. In order to avoid the unwanted attention and craving for a normal life, few celebrity wives stay away from the limelight. These Kollywood and Tollywood spouses have remained lesser known and here's a glimpse of those 'shy' wives who support their husbands behind the screen!
Bharath's wife Jeshly Joshua
Actor Bharath married Jeshly Joshua in the year 2013 after his film '555'. The actor is a Tam Brahm while Jeshly was a Christian but the families agreed to their wedding. Jeshly was hardly seen after her wedding along with Bharath.
Manchu Manoj's wife Pranathi Reddy
The couple got married last year and the media hardly got to see Pranathi post-wedding. She was spotted at the audio launch event of Shourya where she was very simple and humble.
Jr. NTR's wife Lakshmi Pranathi
Actor, Kuchipudi dancer and playback singer Jr. NTR married Lakshmi Pranathi, the daughter of Narne Srinivasa Rao, who is the owner of the Telugu news channel Studio N. Jr. NTR tied the knot in 2011 and the couple is now blessed with a son named Abhay Ram. Lakshmi Pranathi is one of those rarely seen celebrity wives.
Naani's wife Anjana Yelavarthy
The 'Naan ee' famous Naani married a software engineer Anjana, whom he dated for five years before their marriage. The couple's love story was the talk of Tollywood when they got married in 2012. Despite being a moviebuff, Anjana was rarely seen in the limelight.
Vikram Prabhu's wife Lakshmi Ujjaini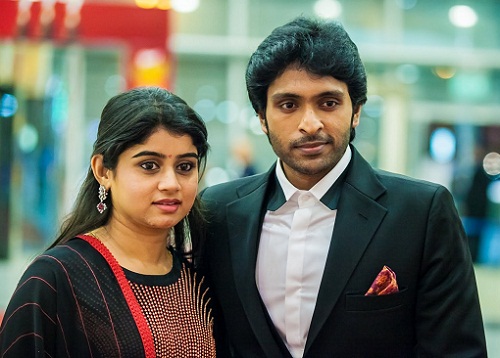 Vikram Prabhu is married to Lakshmi Ujjaini, the daughter of an industrialist  in the year 2007. Lakshmi is quite simple at most of the places that she was spotted in. Despite Vikram Prabhu's career in the film industry, his wife was not seen much in the events or launches
Jeeva's wife Supriya
Jeeva married interior designer Supriya, whom he had been dating for 8 years before his marriage. Jeeva has also said that she has been a great support in his career from earlier times. But she never let the media notice her!
Pawan Kalyan's wife Anna Lezhneva
Pawan Kalyan married Russian Anna Lezhneva, whom he met during his shoot for 'Teen Maar' in 2011. The actor hasn't revealed anything about why he had divorced his second wife and married Anna. But the couple haven't made much public appearances together.
.