When it comes to Tamil cinema, it has never failed to amaze us with fantastic and memorable storylines. One such is our movie characters being in foster care, finding out their past and wanting to see their biological parents. Adopted children are fortunate, particularly when they're adopted by caring and loving parents, but life can be difficult for adopted children. They face challenges and sometimes find it difficult to understand. Here we have 5 Tamil films that portrayed adoption is the best thing one could do.
By Ancy Donal
Kannathil Muthamittal
A little girl, Keerthana Parthipan is told by her parents that she is adopted. Determined to find her biological mother, she begs her parents to take her to Sri Lanka, where she finds her real mother working with the militant group of activists. After having a brief conversation with her mother she returns back to parents who adopted her.
Arunachalam
Superstar Rajinikanth was taken into foster care by a well-to-do family after losing his parents. Brought up and treated as their own child, he grows up to be quite popular in the whole locality. Later he finds out his past and ventures to search his biological parents but destiny has its own play. One can even add the film Thalapathy, another popular Rajinikanth film
Azhagi
Parthipan brings his childhood friend, Nandita Das and her son home as they are suffering financially. They help in household chores but  issues arise between Parthipan and his wife, and Nanditha Das leaves. Later Parthipan finds her son at an orphanage and adopts him. Since then he lives with them as their son.
Vel
Saranya Ponvannan loses one of her twin child on a train journey and he happens to be Surya, who is taken into foster care by a family in a village. They celebrate him and he becomes their favourite. His twin accidentally learns about the other and they finally meet, but later Saranya leaves her child to them as she doesn't want them to live in pain of losing their son.
Mersal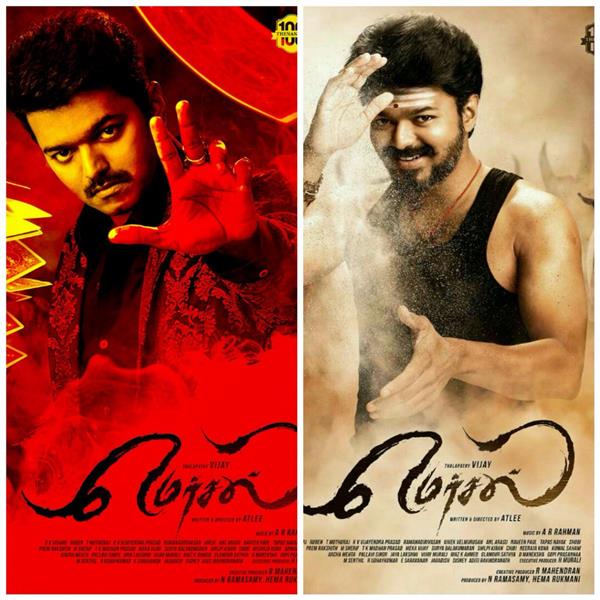 The look-alike brothers played by Vijay were separated after their parent's death and end up different places. One of them is adopted by a magician and he learns magic and eventually becomes a top magician, the other end up in a normal family and becomes a doctor. After a series of twists and turns, the brothers finally meet and unite to take revenge for their parent's death.