Shruti Haasan and dad Kamal Haasan have got to be the coolest daddy-daughter duo in town! Shruti and Kamal are currently working on the action comedy Sabash Naidu. This is the first time they will be seen on-screen together. Let's take a look at how beautiful their relationship has evolved over the years and how they also started working together for films. 
Here's a couple of rare childhood pictures that tell us how Kamal spent quality time with his kids even when he was shooting for movies, most of his life.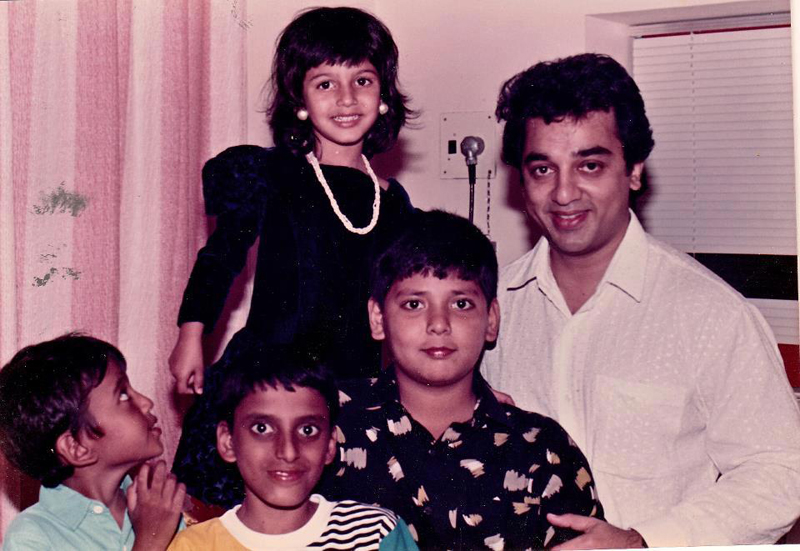 Shruti said in an interview that movie sets were never new to her as she practically grew up on the sets of her dad's films.
Did you know that Shruti made her debut on screen in Kamal's Hey Ram? She played the role of Vallabhbhai Patel's daughter in the movie.
After her schooling Shruti professionally studied music at the Musicians Institute in California. She began her career as a music director with her father's home production Unnaipol Oruvan. She even appeared in the promotional videos for the film with rapper Blaaze.
Also Read: Shruti Haasan: Dad Brings Positivity To The Sets Of Sabash Naidu 
Shruti then went on to star in many Tamil, Telugu and Hindi movie and has established a name for herself in the film industry.
Shruti loves clicking fun selfies with her dad and does not forget to share them with her fans.
Kamal and Shruti have appeared together for numerous award functions and film promotions. It is always a happy moment to see the father-daughter duo posing for pictures.
Also Read: 8 South Indian Actresses With Impressive Body Tattoos!
After a long gap, the father and daughter are now working in a movie. Kamal apart from acting in Sabash Naidu will also direct Shruti in the film. Akshara is also working behind the scenes for Sabash Naidu. Altogether, this film is Haasan's home production in literal terms! We can't wait for the movie! Here's a picture from the sets!