When acting is in your genes, you want to make sure it's nurtured and turned into passion with years to come. Many popular star kids have stood by the challenge of being compared to their successful fathers. It may be easy for these kids to foray into the film industry but what lies ahead is a huge chunk of expectations, especially if the father is a legendary star.
Across Bollywood and South cinema, these daddy-son duos have complemented each other's success and we wish we could see them together on screen.
Amitabh and Abhishek Bachchan
This star son, not only had to prove himself just as a star son, but of someone who's considered the star of the millennium. Not only that, Jaya Bachchan was a bigger star of her times too, and for Abhishek it must have been a roller coaster ride. Till date, his choice of movies are often compared to his legendary father's and we think it't quite unfair. Abhishek Bachchan proved quite earlier in his career that he's a brilliant performer! His sense of humour and dedication is well-appreciated and we wish we could see more of Abhishek and Amithabh Bachchan together. Paa was a great example of what this star pair can do onscreen! It's nothing less than magic!
Chiranjeevi and Ram Charan Tej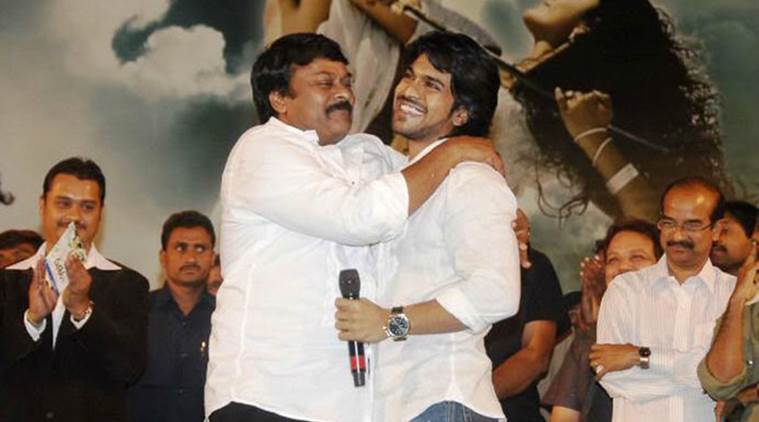 What do you do when you're the son of Megastar Chiranjeevi? Ram Charan has time and again proved he's inherited the best acting genes. Charan is hardly 10 films old and is already a huge star in Tollywood. Though his stint with Bollywood din't work, he continues to do some great movies down south. Charan's Magadheera is considered on of his best performances and we just loved seeing the father and son shake a leg at Srija's wedding this March. We hear Charan may be seen onscreen in his father's 150th movie! Can't wait!
Krishna and Mahesh Babu
Not many fans beyond the twin states are aware of the fact that Mahesh Babu's father Krishna Gattamaneni was a lot more popular than the young star. Krishna was an obvious choice for both villainous and lead roles during the 70s. Standing strong along with the bigwigs NTR and ANR wasn't easy, but Krishna did great films and is considered a living legend. Mahesh Babu doesn't need any introduction and the star popularly known as 'Prince of Tollywood' has quite perfectly fulfilled all the expectations riding on him.
Mammootty and Dulquer Salmaan
The most good-looking father-son duo ever! Mammootty is a huge star in Malayalam movies and is quite popular across the country for is brilliant acting skills. Of course his son Dulquer chose to be an actor, and what a star he turned out to be! Dulquer has not only inherited his father's charms but also his amazing acting skills. With just 20 films, Dulquer has proved he is here to stay and is equally popular across other states in south India. He has received more than 10 awards for his performances. He's definitely the next big thing!
Rakesh and Hrithik Roshan
When Kaho Naa Pyaar Hai released, Media publications carried a headline, 'A Star Is Born'! Rightly so! Hrithik Roshan comes from a family of talented celebrities. His grandfather and dad were both huge stars and living up to their expectation we're sure wasn't easy. Hrithik is a great dancer, performer and oh he is just what a Greek god would look like. Rakesh Roshan was also a big star of his times and has acted in over 100 films. Hrithik has two sons let's see if his sons take the same path as their father and grandfather!
Rishi and Ranbir Kapoor
Ranbir Kapoor not only had a star father, but a legendary list of family members! He is the great grand son of India's first actor Prithviraj Kapoor, grand son of Raj Kapoor, grand nephew of Shammi Kapoor and Shashi Kapoor, Nephew of Randhir Kapoor, Son of Rishi and Neetu Kapoor and of course cousin of Karishma and Kareena Kapoor! That's quite the first family of Bollywood and when his first movie Saawariya released, he proved he was the rightful heir to the legendary list of actors! Ranbir's performances have been powerful and brilliant. We miss seeing him more on screen; the last one was Tamasha!
 Sivakumar and Suriya
Sivakumar is one of those stars who's known for his well delivered dialogues and great screen presence. The actor has done almost 100 films and has acted with literally every actress of his time. His sons Suriya and Karthi, both chose their father's profession and have done justice to his legacy. Suriya is one of the most successful stars of our times and Karthi has also proved his mettle over the years! It would be a great sight to see the trio on screen!
You May Also Like: Pictures: Mahesh Babu, Namrata's Family Holiday Pics Are So Gorgeous! 
You May Also Like: Meet Sultan Allu Arjun, Sultana Sneha Reddy!