The ubiquitous idli has found a place in everyone's palate world over and has given birth to many variants. Idlis are known for its simplicity, nutrition and inexpensiveness. A fundamental dish in most households, there are many variations to idlis, which are as easy to make without much struggle in the kitchen.
GREEN GRAM IDLI
Ingredients
1 cup green gram
1 handful urad dal
Salt and green chilli to taste
1 tsp soda bicarbonate (to be added while making the idli if you want to make the idlis immediately without fermentation)
Method
Soak the green gram and urad dal together over night.
Grind it to a coarse consistency with salt and green chillis.
Pour the batter in the idli mould and steam for 8 minutes.
Serve with ginger or garlic chutney.
JACKFRUIT IDLI
Ingredients
2 cups rice
2 cups jackfruit (cut into small pieces)
½ cup grated coconut
½-¾ cup jaggery
¼ tsp cardamom Powder
¼ tsp cooking Soda
½ tsp salt
Method
Soak rice in water for couple of hours or overnight.
Grind the rice with freshly grated coconut, salt, cooking soda and jaggery to a smooth consistency (dosai batter consistency).
To this add chopped jackfruit and cardamom powder and mix well.
Grease the idli plate with ghee and pour a ladle full of batter and steam cook them in pressure cooker for 10-15 minutes.
Serve them hot with a spicy mango chutney.
STUFFED POTATO IDLIS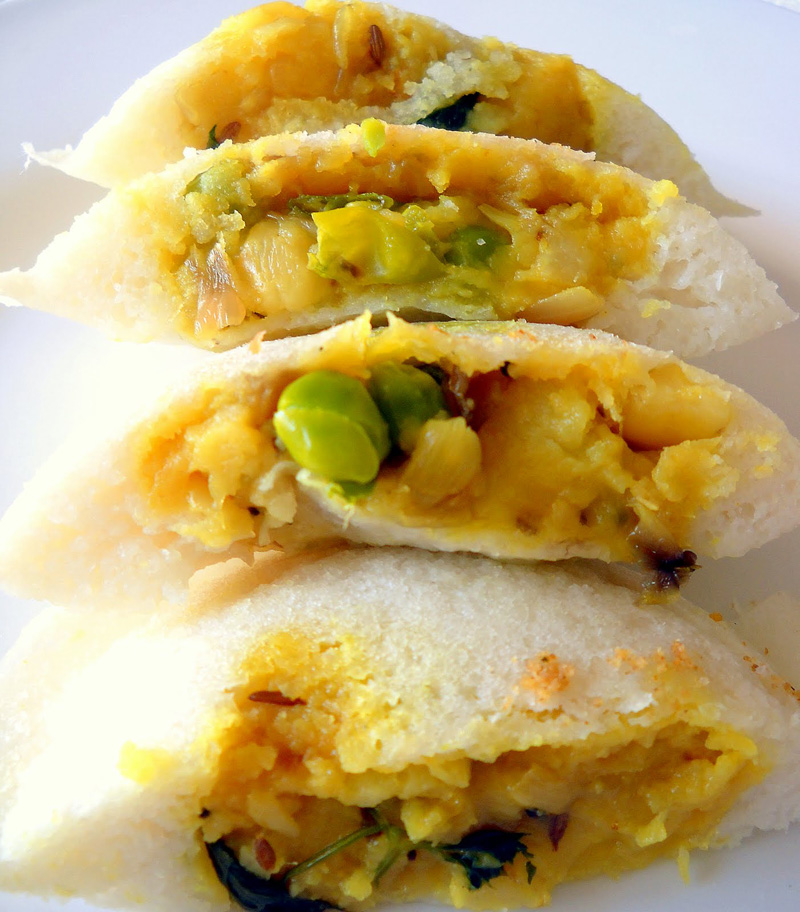 Ingredients
Idli batter
2-3 boiled potatoes (mashed and peeled)
1 onion (finely chopped)
10 cashews
2 green chilies (finely chopped)
Handful of peas
Coriander leaves (finely chopped)
Pinch of Asafoetida
Oil to sauté
Pinch of turmeric powder
Method
Heat some oil in a kadai and add the onions. Sauté for a while and then add the green chilies, cashews, turmeric powder and Asafoetida.
Now, add the mashed potato to this mixture and sauté until the ingredients are well combined. Add salt to taste. Add the chopped coriander as garnish and set aside.
Grease the idli stand with some oil and plop a spoon full of idli batter into each section. Place a tablespoon of the potato mixture and top if off with another spoon of idli batter. Repeat the process until the batter and the potato mixture are done.
Steam the idlis until they are well cooked.
Serve hot with mint or coconut chutney.
IDLI MANCHURIAN
Ingredients
6-8 left over idlis (quartered into pieces)
2 tbsp maida
1 tbsp corn flour
1 tsp ginger-garlic paste
1 tsp green chilli paste
Less than 1/2 cup warm water
Salt to taste
 
For the sauce:
1/4 cup spring onions (finely chopped)
1/2 capsicum (finely sliced)
1 tbsp finely minced garlic
1/4 tsp finely minced ginger
1-2 finely chopped green chilies
1/4 tsp red chilli powder (preferably Kashmiri)
1/2 tsp soya sauce
1/4 tbsp chilli sauce
1 tsp vinegar
1 1/2 tbsp tomato sauce
1/2 tsp brown sugar (optional)
Salt as required
1 1/2 tbsp sesame oil
1 tbsp finely chopped coriander leaves (replaceable with spring onions)
Method
In a heavy bottomed kadai, heat some oil.
In a bowl, mix maida, corn flour, salt, ginger-garlic and chilli paste and water to make a thick paste. Dip the idli pieces into the batter until they are well coated.
Drop the idli pieces into the hot oil and make sure you don't crowd the kadai with idli pieces.
Reduce the flame and deep fry the idli pieces until they turn light brown. Towards the end, increase the flame and continue to fry them till they turn golden brown.